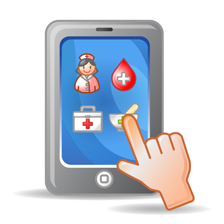 Editor's note: In February, Dr. Graffigna presented an evidence-based model for patient health engagement. In this contribution, she offers concrete guidelines for integrating new communication technologies into the care process to more effectively engage patients.
.
Making patient active and engaged in their healthcare is the gold standard in the 21st century health policy and medical practice. It enables and retains the patient's autonomy and self-determination, and it supports patients' rights to make decisions about their future care. The concept of patient engagement calls for healthcare organizations to reframe their models and approaches to care. It also requires innovations that allow healthcare systems to facilitate the exchanges between patients and their providers.
The Power of eHealth
The use of new communication technologies in health management is called eHealth. It is a broad term that encompasses a varied range of phenomena, conceptions and instruments. Several definitions of eHealth term are available in the literature, most of them highlighting the importance of Internet-related technologies to support, enable, promote and enhance health or, more precisely, the process of healthcare.
Tools to Learn, Share and Support
Generally speaking, eHealth tools and applications such as Google, Wikipedia, eBooks, Twitter, library web portals can enable patients to easily access health information and improve their health literacy. Internet tools and sites such as Facebook, Google+, Twitter, www.patientslikeme.com can enable the creation of and participation in patients' virtual communities to facilitate social sharing of health topics.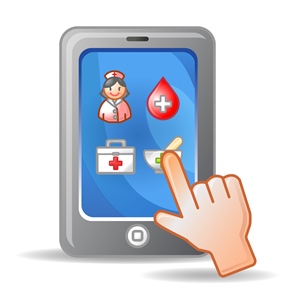 Moreover, EHR and PHR technologies can be useful tools for sharing patient information within the healthcare system among healthcare professionals and with patients. Paired with phones, mobile phones, SMS and email, they also can provide valuable support for daily care through remote monitoring and by facilitating connections between patients and health providers on demand.
Numerous interventions examined the efficacy of eHealth integrations in the process of care, including in promoting physical activity, assisting chronically ill patients, and treating numerous diseases, both physical and psychological. However, though eHealth has been analyzed for its effectiveness in the care process, less attention has been devoted to understanding how eHealth impacts the engagement of patients. Particularly, a recent study (Graffigna et colleagues,2016) demonstrated how the level of patients engagement in their care, itself, is a predictor of eHealth adoption and effectiveness.
Designing Patient-specific eHealth Tools
In other terms, eHealth tools appear to be effective when designed and fine-tuned with the engagement needs and expectations of the patients. In this sense, implementing an eHealth intervention means choosing, monitoring and managing an integrated system of technological resources, based on the specific condition of the patient, on his/her specific needs and level of engagement.
A Roadmap for eHealth Engagement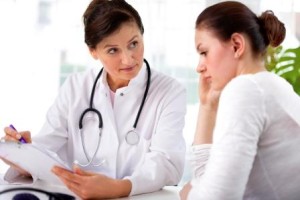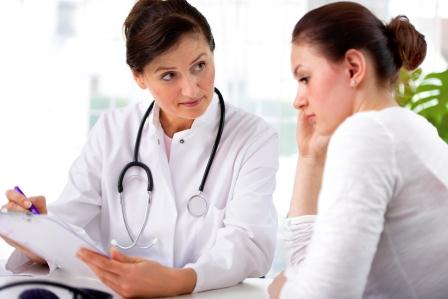 In this contribution, I propose a preliminary roadmap of the stages that need to be addressed to ensure eHealth technologies effectiveness in promoting patient engagement. I believe that in developing eHealth tools, it is critical that we take into account the unique unmet needs that patients experience in the different phases of the patient engagement process. According to this vision, not only the disease condition and the therapy needs, but also the illness experience of the patient – what he thinks, what he feels and how he responds or acts – must be taken into consideration as fundamental references for eHealth tools design and implementation.
In this respect, the Patient Health Engagement Model (scientifically validated by Graffigna et colleagues, 2015) is particularly useful. This model features four stages of the patient's engagement journey (blackout, arousal adhesion, eudaimonic project), which are characterized by complex patients' experiential dynamics. This dynamic view of the patient engagement process suggests that a fully engaged patient status is the final outcome of a series of emotional, cognitive and behavioral reframing and that the patient's success at each phase of the process depends on the success in the earlier one.
In order to support the process of patient engagement, specific action priorities should be followed (See figure below). eHealth is recognized to have a crucial role in this process. However, eHealth tools have to be appropriately designed according to the specific patients' engagement experience and needs.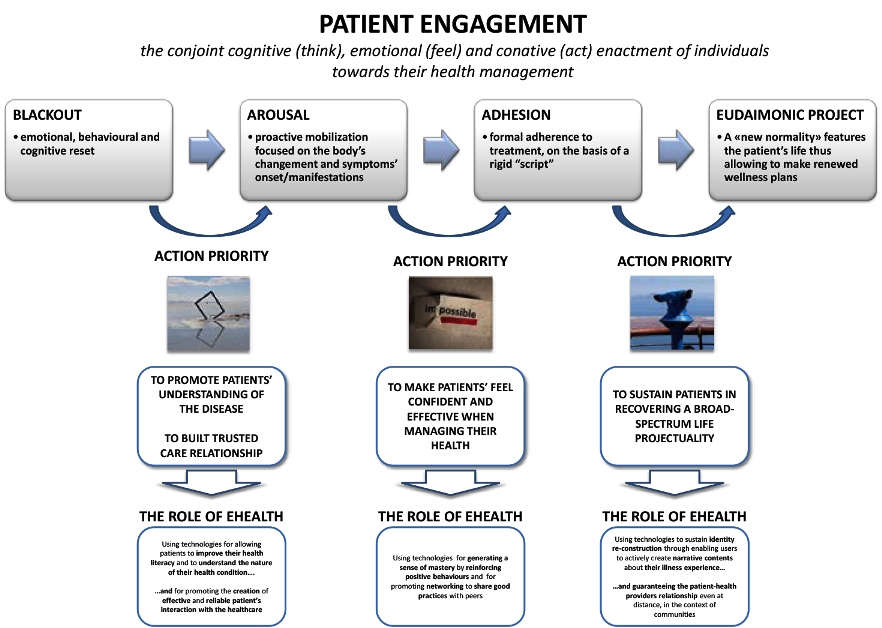 Transitioning from the Blackout to the Arousal Stage
The Blackout stage occurs at the onset of the disease and has a great impact on the patient psychological functioning. The patient has to accept and understand his new health condition which also disrupts and de-organizes the structure of knowledge and beliefs he has about himself. In other words, the individual has to accept that now he is also a patient, a person with a disease by gaining a deeper understanding of his condition.
Action Priorities to Address Patient's Unmet Needs To overcome the emotional confusion related to the loss of identity, the patient needs to reframe his understanding of the nature of his own body changes, as well as of his own psychological status. There is the need to improve the patient's understanding of his health and related conditions. To address this need, it is necessary to create a safe care environment by fostering the patient-health provider relationship which can function as the catalyzer of the care process. Moreover, it is necessary to sustain caregivers in understanding the patients' reactions to their illness experience.
Guidelines for Developing eHealth Interventions Technological applications allow the patient to find information about his pathological condition and the available healthcare resources to manage it. This task may be achieved by adopting healthcare web portals, which help patients in transforming information management into knowledge management. Namely, you need provide information that is a guide for action or information with a direction.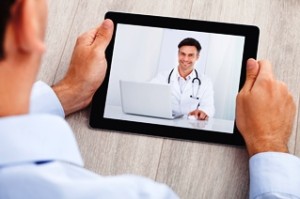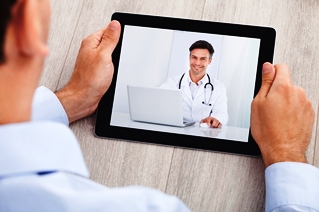 Also, new technologies for communication can allow to deliver health services at distance i.e. teleHealth. The information can be real time where the healthcare professional and the patient interact simultaneously via video chat, or asynchronously where information can be stored-and-forwarded for consultation and analysis at a later time. These types of technologies are usually well accepted by patients, being their acceptance is related to its perceived usefulness and experienced ease of use.
Transitioning from the Arousal to the Adhesion Stage
In the Arousal stage, patients begin to be emotionally activated, recognizing they are ill and experiencing a loss of control over their body and emotional reactions. Consequently, they feel a reduced sense of power over their disease and over their daily life, and delegate responsibility for their care to providers.
Action Priorities to Address Patient's Unmet Needs To encourage the patients' advancement along the engagement process, there is a need for making patients' feel confident when managing their health by valuing and reinforcing positive behaviors. To accomplish this goal, patients should be empowered and sustained in prioritizing goals, identifying obstacles and building a trustworthy relational care network.
Guidelines for Developing eHealth Intervention A patient's reduced sense of control over his health and life can be conceived as a loss of self-efficacy. New technologies present remarkable opportunities to foster the achievement of such sources, directly influencing the personal sense of control/power perceived by a patient.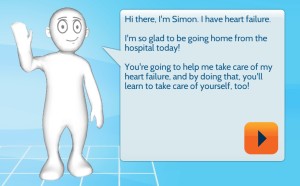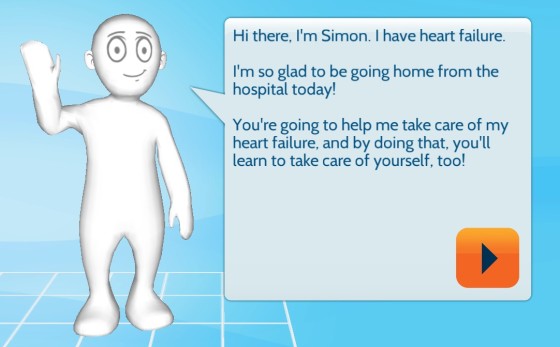 Simulation Technologies On the one hand, simulation technologies, such as virtual reality, video games and serious games constitute an opportunity for an individual to exercise his own abilities in simulated contexts that generate a sense of mastery though they are simulated. In this context, mobile apps for healthcare also can play an important role in disease self-management, patient education and remote monitoring.
Shared Platforms On the other hand, new communication technologies foster the engagement of people in shared platforms, such as social networks, in which they could share experiences and benefit of the positive interaction with others.
Patient-Provider-Caregiver Interaction Finally, in this stage, continuity of the care process should be maintained through active involvement of the healthcare professionals, the caregivers and the patient, himself. Mobile technologies can implemented to foster health and well-being (mHealth). Since smartphones are now constantly present in everyday lives, they can extend the provider-patient interaction and consultation beyond the face-to-face meetings for diagnosis and treatment. They can be used to record and monitor behavioral and physiological data during daily life, also providing immediate feedback to the patients.
Transitioning from the Adhesion to the Eudaimonic Project Stage
Though patients at the Adhesion stage have built greater confidence in effectively managing their condition, nonetheless, they face limitations in their daily living as a result of their disease. The challenge now is to advance that recovery within the broader context of their lives and and help them realize their full potential.
Action Priorities to Address the Patient's Unmet Needs Successfully moving on this state entails patients gaining a positive approach to health management and enabling them to recapture an active role in the society by making wellness plans that consider disease management a part of the whole patients' life.
Guidelines for Developing eHealth Interventions In this context, patients benefit from interaction and collaboration with other patients and healthcare providers.
Virtual Worlds This can be achieved by implementing the care process in 3D avatars-mediated virtual worlds, within the context of an innovative eHealth service that provides personalized immersive therapy (pHealth). The key factor is "interreality," namely, a hybrid augmented experience that merges the real and the virtual world through storytelling. According to narrative psychology, people's stories are an important part of constructing their identity, since the act of storytelling allows people to make sense of their world and experiences.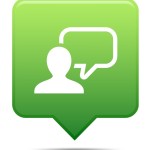 Digital Storytelling, which encompasses a broad range of tools and methods, demonstrates how new technologies enable users to actively create and share their narrative on the web. Weblogs or blogs are an important example of this trend. To date, they have been frequently used both in educational and in health-related contexts. On the one hand, they allow the patient to express and re-construct his own identity through a continuing illness autobiographical narration.
On the other hand, the patient's blog can be implemented in broader communities of patients, where the blog authors are motivated to share their experiences and knowledge. The use of blogs as a discourse tool supports the emergence of a community by affording patients opportunities to socialize, be involved in a dialogue with peers, seek support and assistance, and express their feelings and emotions.
The "Take- Home" Message
My colleagues and I advocate for innovation in the care models that exploit the undeniable potential of new technologies for engaging patients in their own care. However, interventions based on new technology must deeply consider patients' experiences and needs of engagement in order to be fully effective. In this respect, the level of engagement of a specific patient, as assessed through the Patient Health Engagement Scale, ( Graffigna et al., 2015) should be considered a compass to best choose technological tools and to orient interventions addressed to such patients. In this blog, I have offered a roadmap for engaging patients through eHealth solutions based on the Patient Health Engagement Model, hoping to contribute to the definition of concrete guidelines for practice.
I truly believe that the real innovation in healthcare today should consist in the best use and exploitation of the great opportunities that technologies are offering: the attentive assessment of patients' need of engagement should be a key to achieve this goal.
---
Further readings: