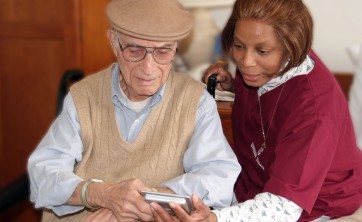 Editor's Note: This is Part II of Setting the Standard for Engaging and Activating Patients detailing a new standard for communication Dr. Scaletta and his team created to improve patient engagement at every touch point.
My healthcare system closed calendar year 2015 on a high note. We trained 7,000 employees and medical staff across our three-hospital system on an internally-created standard for communication that works in any setting to help foster healthy, trusting relationships. We are beginning to see the fruits of that labor in improved CAHPS scores, particularly those related to interpersonal communication and willingness to refer.
Our goal in developing the G.R.E.A.T.™ Service Standard was to enhance the way our patients perceive us. We distilled the key components of a communication framework that would work across all service lines – nurses, physicians, technicians, valets, food service staff, housekeeping, registration, public safety … everyone! All of us are care providers and by working well together we become a winning team. The mnemonic, G-R-E-A-T, organizes each component in the proper sequential order and itself is a constant reminder of the margin between good care and great care.
Greet
First impressions begin with a sincere smile and friendly "hello." State your name and role. Consider that your appearance, alertness and attitude are in play. Shake the patient's hand and acknowledge everyone in their company. Make it clear that they are welcome and portray the role of a gracious host.
Relate
Relating is an opportunity to connect in a meaningful way. Before diving into the medical history, try to relate for a moment on a personal level. Consider seeking something you may have in common, which can be as basic as the weather, a local sports team or a fashion trend. With older patients take a moment to find out their profession or greatest accomplishment. Nothing makes them happier than sharing their story and us more honored to be able to help with their medical needs. Maintaining good eye contact and carefully listening (talking initially only to paraphrase their words) is the perfect way for healthcare providers to connect. Be mindful of any words or body language that may reveal their anxiety, sadness or anger and demonstrate empathy by acknowledging any low points and seeking ways to find a better place.
Explain
We all know that nothing is certain when it comes to the health of ourselves and our loved ones. For those without medical knowledge, there are many unknowns and misperceptions that can create fear and anxiety. Our ability to clearly explain what is going on and what is about to happen in the next few minutes (procedure), hours (ambulatory visit) or days (admission) defines a great provider. "I'm going to draw blood" is fine for someone that has had blood drawn many times before. For others, providing more detail is an opportunity to gain trust. "This tourniquet squeezes your arm and allows me to find a good vein. Then, I will clean the area and insert a needle. It hurts for a moment, like a sharp pinch." Transparency, knowledge and encouragement is the main service healthcare provider deliver.
Ask
As teachers, we are not always as effective as we think. Of course, just because something is familiar to us does not mean it is familiar to others. The only way to be sure our explanation was understood is to ask open-ended questions – not "Do you understand?" but "What do you understand?" A great question toward the end of the encounter is "What are your remaining concerns?" This extra step uncovers many misperceptions, improves safety (when a serious symptom is finally mentioned) and reduces the chance of complaints.
Thank
Last impressions are as important as first ones. We ought to be thankful that the patient gave us the opportunity to take care of them, particularly when they made a trusting decision to come to us for care. Encouragement has a great deal of impact on success by instilling confidence and leading to patient activation.
We are beginning to look at ways to hone G.R.E.A.T.™ for "not-so-great" situations such as when a patient receives bad news or when dealing with someone who is very angry. Also, we plan to explore how to the system can be modified to accommodate culture differences. G.R.E.A.T.™ has proven to helpful for coaching providers who are falling short of satisfaction goals. Breaking down communication into five segments helps individuals understand exactly where close-able gaps exist. If the G.R.E.A.T. mnemonic resonates with you, consider introducing it to your institution and share some stories about how it helped achieve better patient engagement. Edward-Elmhurst Health welcomes its use by other healthcare settings aiming to create a better patient experience. Go to https://www.eehealth.org/great to access free instructional videos and collateral training materials.