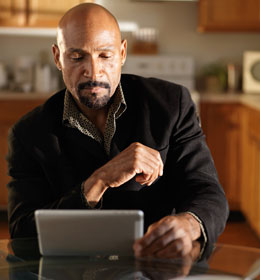 A few weeks ago, I reported on a national survey that measured patient use of internet portals that give patients access to their electronic medical records. I also reflected on my own experience with online access to personal health information.
Recently, OpenNotes, a movement that advocates and facilities patient access to their clinicians' visit notes,* offered "Improving portals for a better patient experience," a webinar in its Grand Rounds series. The webinar is archived (slides and audio) on the OpenNotes website and available for free.
The webinar is presented in two parts plus a Q&A segment. (The webinar is efficient to navigate, with four options: the full 1-hr webinar, each of the two presentations, and the Q&A.)
The first half features a presentation by staff members at Emory Healthcare, a large health system in Georgia. Emory has extensive experience with patient portals: 93,000 unique users on average each month, 474,912 enrolled patients, and more than 15,000 calls per month placed to a dedicated team that fields questions about using the portal (FY 2019).
With the help of a consultant, Emory developed a scorecard designed to evaluate the effectiveness of its portal from the patient's perspective. Emory used the scorecard in 2017 to measure patient experience on its three separate portals, all connected to Cerner, Emory's electronic health record. In addition to understanding patient experience, the scorecard allowed Emory to develop a strategic action plan for improving the portals, including provider outreach and technological innovation. In 2020, the scorecard indicated good progress overall.
The second half of the webinar features patient advocate Rosie Bartel, who has needed advanced medical care since 2009, when she developed MRSA and sepsis and required amputation following knee replacement surgery. Managing information and communications with multiple providers means Bartel currently uses seven separate portals. Bartel works with a number of groups including PFCC Partners and the National IT Patient and Family Advisory Board, which has researched portals from the patient's point of view, attempting to describe the "perfect patient portal."
Bartel is passionate about the role of portals in patient-centered care and is a wealth of information and advice for portal designers, based on her personal experience and years of collaboration with health systems and non-profits focused on patient experience. Bartel points out that portals do more than supply information, they educate, engage and empower patients to bring their best to the patient-clinician relationship. Bartel says, "I am a better patient when I have good information."
* The OpenNotes Collaborative won a Sherman Award for Excellence in Patient Engagement in 2014.