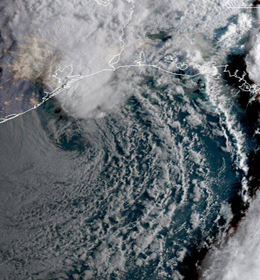 Watching coverage of rescues following tropical storm Harvey reinforced my growing awareness of a national problem. And I'm not thinking about storms and flooding (although the calamity continues).
I'm increasingly aware of a large population of individuals and—if they're lucky—their family caregivers who are engaged in challenging home care situations, often hidden, often without training or support. "Engagement" in these circumstances means daily, hands-on, arduous caregiving and care management, with participants who are engaged by circumstance or simply because they care, not because they are proactively taking charge. Often people become engaged by default, because responsibility comes calling when a family member or friend is in need. That need can arise quickly, from an unexpected, sudden event, or slowly, as someone gradually declines due to illness, age, or both. In these circumstances, patient and family engagement can take on an accidental quality.
In Houston, Texas, and surrounding areas, on-air reporters and volunteers have revealed difficult home-care situations as they rescued citizens from flooded neighborhoods this week. In one scene, a reporter and local volunteer helped an elderly man escape waist-high water that extended throughout his house. After helping the man climb into the boat with great difficulty, the volunteer returned to the house where the man's daughter, visiting from out of town, was trying to get her mother, an Alzheimer's patient, also to leave the house. Eventually the elderly couple, their daughter, and pets made it safely into the boat and were delivered to a transfer point where they were picked up and further evacuated by other family members.
Apart from the immediate drama related to the flooding, I was struck by this and many other stories that indicate the plights of many people managing at home with physical and mental impairments and little if any help. During a crisis such as a flood, they are in obvious, severe trouble, but they live daily with less dramatic but still hazardous and debilitating challenges. What does patient engagement mean in these settings? What help do these people need to make that engagement easier and more successful? How can healthcare and social services anticipate those needs and provide help before rescue (from inadequate care, not just from floods) is needed?
Engaging Patients often focuses on efforts to improve the quality of healthcare delivered at home. This week, as we think of people affected by Harvey, we revisit stories (including last week's post) about ways to improve transitions of care and other topics related to home care:
Improving Care Transitions, Reducing Readmissions
http://www.engagingpatients.org/2015-jqs-award-nominee/encore-presentation-improving-care-transitions-reducing-readmissions/
Moving the Needle: A Disruptive Innovation to Reduce Unnecessary Hospitalizations and ER Visits
http://www.engagingpatients.org/the-transformation-of-healthcare/moving-the-needle-in-healthcare-a-disruptive-innovation-to-reduce-unnecessary-hospitalizations-and-er-visits/
Here to Home: Effectively Engaging Heart Failure Patients in Their Care
http://www.engagingpatients.org/patient-centered-care-2/home-effectively-engaging-heart-failure-patients-care/
OSF Home Care Services
http://www.engagingpatients.org/?jqsstories=osf-home-care-services
Students Support Community Health on Their Way to Health Professions
Students Support Community Health on Their Way to Health Professions