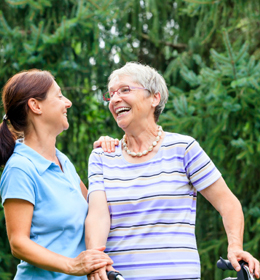 When I think about patient engagement, I'm usually thinking of patients and caregivers engaged in care plans directed and managed by healthcare professionals. The settings most familiar to me include hospitals, physician practices, and ambulatory care offices, such as physical therapy practices, urgent care facilities, and community clinics. I'm not usually thinking of home care.
Patient engagement, however, should be ubiquitous. Patients in nursing homes, rehabilitation facilities of all kinds, and engaged in home care benefit by staying informed and participating actively in everything related to their health. The same goes for people using dietary consultants, children in school nurse offices, diabetes patients monitoring their glucose levels at home, and so on. Everyone benefits from daily, active engagement in health.
When seriously ill or disabled patients are cared for at home, "engagement" is no less important but may play out differently from how it works in the other activities I've mentioned. Engagement in home care is a given; patients and volunteer caregivers—often family members—have little choice but to be engaged in the process. For family members who find themselves managing complex medication regimens or administering infusion-based therapies at home with little training and no safety net, engagement is intense and not always anticipated or welcome.
Patient Safety at Home
A report issued last week by the Institute for Healthcare Improvement/National Patient Safety Foundation describes issues around engagement for home-care patients and caregivers in the context of patient safety. The authors of Patient Safety in the Home: Assessment of Issues, Challenges, and Opportunities1 interviewed a broad range of subject matter experts and reviewed published literature to create a thoughtful, incisive view of safety in home care.
The report organizes home-care safety issues in four dimensions:
Physical: The physical characteristics of the home environment directly impact safety for patients and caregivers. Concerns include room layout, barriers to movement and treatment, sanitation, and fall hazards, including clutter.
Emotional: Caregivers and other family members may experience stress, grief, and general discomfort while a resident is being cared for at home. Being ill and cared for at home can be a complicated emotional experience for patients, too.
Social/functional: Social issues relate to relationships among the patient's family members, community, and support networks, if any. Functional issues refer to mobility and daily living activities. The patient's condition and prognosis will affect both functional and social issues; safety may be compromised as relationships and daily life become more difficult.
Processes of care: As increasingly acute and complex patients are being cared for at home, caregivers, who may have no formal training, are asked to perform difficult, sometimes high-risk tasks with no supervision. Safety-related concerns include medication administration, infection control, nutrition, and care coordination.
The report begins to fill significant gaps in our understanding of home care as a increasingly common setting for complex caregiving; safety issues for patients, caregivers, and other residents in homes where care is being provided; and current availability of resources. The report concludes with recommendations for future research to help "advance the science and practice of patient safety improvement in the home."1(p26)
Safety and Engagement
Issues related to patient and family engagement underlie virtually every topic discussed in Patient Safety in the Home. Comments from caregivers and researchers who were interviewed for the report vividly describe the degree and quality of engagement involved in home care—engagement that plays out behind the doors of countless houses, condominiums, trailers, and apartments daily across the country:
When these seniors take care of each other, sometimes it depends on the day who's the caregiver, and who's the patient. If we don't attend to that, we miss the boat.1(p7) — Researcher
Infusion therapy devices. Oh my goodness. How did that become something that you manage in your own home? That's crazy.1(p12) — Family caregiver
We're not treating body parts here. We're treating people who have lives outside the doctor's office. Knowing what those lives are impacts their health and safety. That kind of thing, I really do think, is important.1(p6) — Family caregiver
New services and technologies, such as mobile apps, online support networks, automated medication dispensing systems, personal call systems, and ridesharing services, make some aspects of home care easier or, simply, possible. These are promising developments (also covered in the report), but we risk missing something important if we don't focus on engagement itself. Reading the report and reflecting on experiences among my friends and family members, I'm reminded that patient and family engagement is necessary and hard work, especially when someone is being cared for at home. That work needs to be acknowledged and supported. We'll make progress—and everyone will be safer—to whatever degree we are able to help people navigate the opportunities and challenges of engaging in care provided at home.
1          Carpenter D, Famolaro T, Hassell S, et al. Patient Safety in the Home: Assessment of Issues, Challenges, and Opportunities. Cambridge, Massachusetts: Institute for Healthcare Improvement; August 2017.