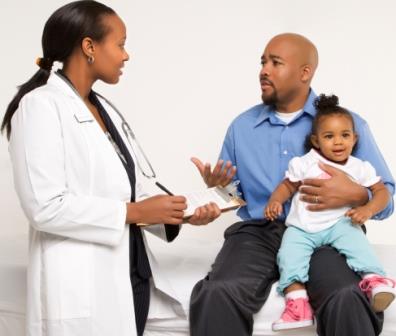 In NICHQ's work to transform practices into medical homes, family partners play a key role in providing guidance for how to make change. Ziva Mann is one of these family partners, working with a team from Cambridge Pediatrics in Massachusetts. An advocate and mother of a child with hemophilia, she shares her story on the importance of a medical home and how partnering with healthcare professionals helped a practice achieve improvements.
Our first son, Shai, was born on an achingly cold night. The first thing he heard was his father singing a lullaby. He looked at me, his head lumpy from a long delivery, and I knew that nothing, ever, had been as precious and wonderful as this tiny little person.
Eight days later, we were in an ambulance. At 10 days old, he was diagnosed with severe hemophilia. Over the next three years, Shai was admitted to the hospital over and over with complications, new diagnoses. We learned about the hospital: who was in charge, who could explain things, and where we could find food, shampoo and even a hidden, beautiful garden. We learned to speak the hospital's language: infusion, antecube, O-sat, PICC, Port-a-Cath, NPO. But for all we learned, we were still lost.
Rebuilding Our World
With each new diagnosis and complication, we found ourselves asking the same questions: What is that? What does that mean for our son? How do we—does he—live with this? Somehow, all of these things had to make sense outside of the hospital. We didn't just need the words of a diagnosis; we needed to rebuild our world and figure out how to live a rich, meaningful life with a baby who looked unimaginably fragile.
As we floundered, crucial doors were opening. By federal mandate, a Hemophilia Treatment Center (HTC) provides a comprehensive care model: a clotting specialist, a nurse practitioner and social worker, ready to work with our family. Our nurse practitioner would spend hours on the phone with us, explaining, teaching and comforting. She linked us to a team of home care nurses and other parents. Together, they helped us see how tough our son was, even when he bruised. Slowly, we learned how hemophilia can happen in our world; that love, laughter and needles can coexist.
Becoming Partners in Care
We learned what questions we needed to ask and what kinds of answers we needed. I needed visuals and articles to read and mull over, and a group of hemo-moms. My husband needed statistics and clear, practical information. We learned how to ask for these, and our medical team learned how to work with us. And our pediatrician, Ellen Sigman, quietly shifted gears becoming facilitator, sense-maker and collaborator. She's our advocate, our partner and the person who keeps me sane, who reminds our specialists that there's a normal kid living a life inside all of that medical hoo-ha. In a rapidly shifting world that tends to focus on what's wrong, she reminds us of what's right.
So, when Dr. Sigman asked me if I could help a quality improvement team at our clinic, I could only say yes.
A New Role to Play
Joining NICHQ's CHIPRA Massachusetts Medical Home Initiative meant that every other week, I sat in a tiny conference room with an interdisciplinary team of frontline staff, leadership and another parent partner, choosing projects aligned to clinic priorities and change concepts for becoming a patent-centered medical home (PCMH). We'd plan, test small cycles of change, collect data on results, and ultimately implement on a larger scale the changes that showed meaningful improvements. I was completely lost, overwhelmed. But the team welcomed me, and handed me a "No Jargon" card. I held up that card over and over, puzzled and learning.
Over and over, our improvement team learned, debated, thought and rethought our ideas about what patients and families need, what the clinic could offer, and how these aligned. The team looked to me for answers and I could offer some guidance, but as a group of middle schoolers reminded me, there were limits.
We were working on a project on helping adolescents and teens develop the skills they need to own their health. One day, I shared a draft of a self-assessment handout with a group of middle schoolers, and asked for some fast feedback. They shredded it. Politely. And thoroughly.
Prompting a New Conversation
"Don't ask us a yes-or-no question about do we know this, or do we want to learn that," they said, rolling their eyes. "If we don't want to talk to you, we'll just check whatever box gets us out of the conversation. Show that you really want to talk—ask us open-ended questions!"
It was humbling, and eye-opening. Our educated guesses weren't enough; clearly, we needed to get out and learn what people needed.
We learned that some people are comfortable asking for information, and others prefer to learn on their own. That learning preferences can be unpredictable, depending on health literacy. And they can change, with the readiness to work with the medical team.
We strategized about how to provide information passively (made available), and actively (in discussion with staff). We created a resources section on the clinic website and looked to see how it was used. We studied the waiting room, observing where the nursing moms like to sit, the teens, the parents of toddlers, and used that to reorganize the bulletin boards, brochures and posters so that the right information was available to the people sitting nearby. We developed a list of resources for doctors and nurses to offer parents of newly diagnosed children and posted it to the intranet. And with feedback from families, we revised the well visit handouts, making them more readable, and adding information that families requested.
A Collaboration with Patients and Families
But it wasn't until our team tackled care for medically-complex children, that we shifted from 'how can the clinic give you what we think you need,' to pure collaboration. Parents (including me) tested an exhaustive needs assessment, but it was "depressing," said one mom. Others agreed. "It focuses only what's wrong, and not on what's right—what we've got working," I told our team. And, parents who did the assessment simply didn't come back for a follow-up visit. We started over, this time with a collaborative care plan that starts with the medical team sitting down and asking: What's Important to You?
Over the year and a half of the grant, I learned a lot, and have such deep respect for the healthcare providers and staff at Cambridge Pediatrics. Today, I still work with the improvement team at Cambridge Pediatrics, and coordinate the patient and family members working with improvement teams at each of Cambridge Health Alliance's 12 primary care sites. I'm incredibly proud of the work that our teams are doing. A PCMH is built brick by brick, project by project—and there are a lot of bricks! But our teams are resourceful, patient and determined. NICHQ offered us an essential catalyst and roadmap. It's up to us to shape the rest of the journey.
Editor's Note: NICHQ's CHIPRA Massachusetts Medical Home Initiative was nominated for the 2015 John Q. Sherman Award for Excellence in Patient Engagement. You can read further details of the initiative in their nomination here.