Patient and family engagement in New Hampshire did not accelerate because of a well-thought out strategic plan, but rather a somewhat casual conversation one morning over tea at a local sandwich shop in Nashua, NH. There, I met for the first time Anne Diefendorf and Greg Vasse from The Foundation for Healthy Communities (FHC) who were interested in putting on a day-long symposium, focusing on patient engagement and wanted my help in designing it. They asked about my story and my interest in improving healthcare through patient engagement. As it often happens in these type of conversations, I found myself immersed in a discussion of my son, Noah, and my pursuits following his death.
A Quest for Patient Safety
Noah's death following a tonsillectomy is a story of poor communication, missed opportunities, misdiagnoses and medical errors, but at the root was a hospital culture that did not engage patients and their families. Noah's death led me on a quest for answers, which I sought via a Master's in Public Health and then a PhD – each with a focus on patient safety and quality improvement. I began working as a patient safety consultant but at every organization, every meeting, and every discussion I spoke most of the time as Noah's mom. I brought the voice of the patient and family to the work that I was doing.
Inspiration for Change
So when I was asked to help with the Patient Engagement Symposium I had a lot to say about what could be included, what we should focus on, and how we could really inspire New Hampshire hospitals to embrace patient and family engagement. Then a simple sentence introduced an idea that had not been considered. Greg, a former hospital CEO, set down his cup and said, "You know what would be great? If we could have you visit with each of our hospitals and help them individually with how they can better engage patients and families." Anne nodded and I smiled thinking it a great idea, but not sure of the commitment behind their nods.
A Dedicated Resource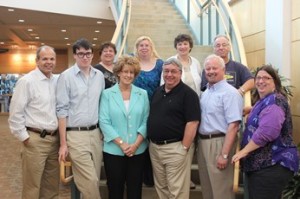 I returned home that day and could not get the idea out of my mind. I contacted them a few days later and within two weeks I was brought on as a Patient-Family Engagement Consultant through the FHC Partnership for Patient's initiative. At a statewide quality commission meeting, I presented and was introduced as a resource for all hospitals. Funding through the Partnership for Patients allowed my services to be offered at no charge to the hospitals. Introductory emails were sent out with the following list of examples of what I could do.
Assessing the current state of patient engagement
Measuring readiness to engage patients
Working with hospital leadership to develop a strategic plan for patient engagement
Presenting at the hospital/department level to educate about and ignite passion for patient engagement
Meeting with and encouraging leadership and staff buy-in
Identifying and breaking down real and perceived barriers
Preparing hospital staff and patients to have patient representatives on hospital committees
Re-vamping and re-invigorating existing Patient and Family Advisory Councils (PFAC)
Designing, implementing and evaluating PFAC including:

Recruiting patients
Preparing /orienting patients and staff
Helping to develop mission/vision statements
Helping to develop direction and goals

Mentoring and guiding PFAC facilitators
Developing in-house PFAC policies and procedures
Helping to develop internal patient stories for training and awareness
We sat back and waited for hospitals to flood our inboxes. But, for the first six months I worked with just one hospital, St. Joseph's, to re-energize and support their PFAC. During those six months, we continued to get the word out. As patient and family engagement concepts spread, I began meeting with leadership from most of the hospitals to discuss how to include patients at the bedside and within the organization.
A New Culture Emerging
The transformation has been truly amazing to experience. As a researcher at heart, I wanted to measure, analyze and find statistical significance to what I was observing. I quickly realized that my statistical models had to be placed on a shelf. A new culture began to emerge, a culture that embraces acute care hospitals and healthcare across the continuum in New Hampshire. The many hospitals that I am working with are eager to learn how to better engage patients. They work at their own pace and comfort level as they include patients and family advisors (PFA) in a number of activities including:
patient and family advisory councils
patient experience, safety and quality improvement committees
other hospital committees
patient safety "walkarounds"
training videos, new hire orientation
senior leader employment interviews
improvement projects
…and many more
A Model That's Working
This model of working Patient-Family Engagement at the state level with one-on-one coaching is at the heart of our success. We are now working together to figure out how to include patients. Almost daily, I hear of a hospital that has decided to try something new. The culture change is not just at the acute care settings. Patient-Family Engagement is expanding to include primary care and specialty providers. Different environments with different needs but they are appreciating the importance of listening to the patient voice.
Listening to a Chorus of Patients
I have also observed a transformation at the state level on initiatives that go beyond the hospital walls. I hear the desire to include consumers in everything that we do. No longer am I the lone voice. We openly discuss the best ways to bring patient and consumer advisors directly into everything we do. Today, we are thinking strategically about the value that patients and consumers bring to the organization.
This year, at the New Hampshire Hospital Association and FHC Annual Meeting Awards dinner, there will be a brand new award: The Noah Lord Patient and Family Engagement Award. This award is to encourage hospitals to nominate improvement projects that actively included or were run by patient advisors. Naming it in honor of my son warms this Mama's heart! Having this recognition for the work being done assures me that in New Hampshire the voices of patients and families are being heard.