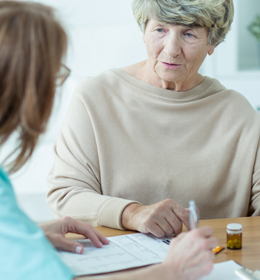 Patients and families benefit from strategies that empower them to actively participate with clinicians. The nuance of understanding required to support effective healthcare relationships, however, can be hard to achieve when communication styles make it difficult for clinicians and patients to understand each other. In addition to other stresses, English spoken with regional or foreign accents can add challenge to care conversations.
Sometimes solutions are right in front of us. For example, years ago, I discovered the joy of running subtitles to help decipher Irish films. I am a film geek and a bit of a purist, so I resisted using English subtitles on Netflix as my husband and I watched the intense and complex Irish drama "The Wind that Shakes the Barley." Constant stops, queries and rewinds were necessary to help with the dialogue—whispered by conspirators and thick in brogue. Because I want a good film to play out with rhythm the director and players infused into the narrative, having to interrupt the film was more distracting than using subtitles. We eventually explored our options and tried turning the subtitles on; we have never looked back. We run them with every film—to the consternation of some friends and family who watch films with us and have yet to drink the Kool-Aid.
The need for such assistance is more important in some activities than others. In healthcare, clear communication is paramount, but it's unlikely subtitles will help support accurate and effective communication with healthcare providers.
Roadblocks to communication
Language is seen as the principal instrument in the delivery of effective healthcare. Communication may be complicated by health literacy gaps, interruptions, production pressures and language barriers. Requesting and sharing information via verbal communication, therefore, has to be clear and appropriate. Providers must ensure that patients are able fully to understand instructions and participate in their care.
Comprehension can be difficult even among native-born, English-speaking Americans. Different voices and communication styles present in strong dialects and cultural orientations across the United States (from Boston to New Orleans to East LA) can mute the effectiveness of the care dialogue.
Many international students who came to the U.S. for medical training stay and practice here. Currently one-quarter of physicians in the United States are international medical graduates. As recently as 2014, half of the internal medicine residents in the U.S. were of international origin. The richness their backgrounds bring to the multicultural patient base in the United States is invaluable. Medicine has been sensitive to communication barriers clinicians may encounter as they adapt to the cultural and verbal styles of the wide range of patients they encounter in their new home. International graduates are required to take language and cultural exams, but more effective opportunities to address the potential for multicultural disconnects are needed.
Actions practices can take to enhance communication
Healthcare professionals and patients share goals that rely on clear communication. Practices may wish, therefore, to explicitly empower patients to request assistance when working with a clinician whose accent hinders effective communication. Things that physician practices can do to improve understanding include:
Being mindful of patients of physicians with accents, to ensure their communication needs are being met. Misunderstandings due to accents could be reported in patient satisfaction surveys. Provide a safe environment for patients to share their experiences.
Reminding patients and families that it's appropriate to politely ask clinicians to speak more slowly, write instructions down on paper or perhaps draw a picture to help get the point across.
Being transparent with patients and providers about dangers inherent in misunderstanding what is said in the medical encounter. Despite the awkwardness of the situation, the practice, the provider and the patient will be served more safely if directions are understood.
Inviting patients and families to request notes from the scribe, if one is present. This may not help during the encounter, but if the patient can read notes (in paper or online) before they leave the office, another member of the medical team may be able to be resolve questions.
Inviting the patient to request a professionally trained communication assistant to help clarify as needed during an office visit.
Using "repeat back" tactics to help ensure that what the patient has been told has been heard accurately.
Offering coaching and training to providers who need to adjust their speech to better serve their patients.
As a last resort, offering to assist the patient to change physicians, even if that requires moving to another practice.
The physician's peers are likely to be aware of language limitations and may wish—in the spirit of safety and strengthening their practice team—to be engaged to assist in these matters. Consistent with other safety efforts, raising these concerns is paramount to improvement. A team can help motivate improvement and ensure the best communication skills and methods are in place to support safe, high-quality care—from the lead physician to the office staff.
As is foundational to most areas of life, core communication skills, politeness and patience can go a long way to fostering success. Lucky for me, on an upcoming trip to Ireland, I'll be with family that can help navigate directions and travel instructions should the brogue present a challenge. Although I suspect, no matter how thick the accent, I'll understand when I hear, "Would you like a Guinness?"