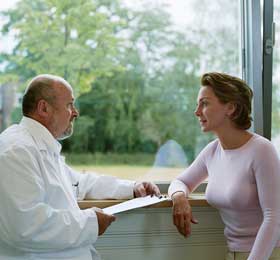 To say "I had a few questions" after learning I had a brain tumor is an understatement.
Born on the cusp between Generation X and the Millennials, my instinctual response as a patient—after posting a hospital selfie to Instagram, of course—is to Google every new medical term I encounter. For the most part, I find what I am looking for, and if I get confused, I email my doctor to ask questions.
In early 2017 a change in health insurance plans forced me to request a copy of my medical record so I could transfer it to new doctors. After paying $15 for a copy of my record on a DVD, I was curious, so I popped the disk into my computer and found a 4,836-page file detailing my previous eight years of living with a brain tumor. Whoa.
This file detailed every touch point the health system had ever had with me, including surgical reports, lab results, pathology reports, and copies of every email conversation I had had with a healthcare provider (including the time I emailed a picture of my new haircut to a nurse practitioner).
But the thing I found most interesting was one thing I could never see through the health system's online patient portal: my doctors' notes.
What are doctors' notes?
Notes offer the most important information in our medical records. Notes remind doctors and other members of the healthcare team about a patient's condition and plan for treatment. But like most people, I didn't know doctors' notes were a thing, let alone imagine that I could have access to this information. During the eight years between my diagnosis and my records request, I could Google my condition, but I was never able to read what my own doctors wrote about me.
Seeing those notes was eye opening. They helped fill in details I missed when I was unconscious from seizures and surgeries, and documented the thought process leading to my diagnosis. But more importantly, the notes showed that my doctors were listening to me, and that was the most meaningful part of all.
Launching OpenNotes? Communication is key to reaching doctors and patients.
I was so passionate about the value notes could bring that I joined the OpenNotes team in the summer of 2017, focusing on communications.
OpenNotes is a national movement dedicated to making healthcare more open and transparent by encouraging doctors, nurses, therapists, and others to share visit notes with their patients through secure, electronic patient portals.
Wearing my patient hat, OpenNotes sounds simple, but from a systems perspective I've learned that opening visit notes to patients requires culture change that can encounter many obstacles. Communicating with patients, doctors, nurses, front-of-the-house staff and others is essential for meeting these challenges.
When it comes to starting OpenNotes at hospitals and systems, clinicians benefit from knowing about the experiences other health systems have had with implementation. We hear from most systems that clinicians are initially concerned about workload and expect also that patients will be worried or confused by reading their notes. But with close to 100 health systems now sharing notes, we're not seeing evidence to support those concerns. Sharing research and stories, setting expectations, and addressing concerns openly can ease the path to OpenNotes.
I'm also learning that most patients are like me. They don't know what visit notes are, they don't know they have right to access their notes, and they have no idea that important information contained in notes can help them better understand and manage their health and illnesses.
Patients and their families need information about what doctors' notes are, why the health system is sharing them, and how they might benefit. When health systems communicate clearly about notes with their patients, they are more likely to read them. In turn, that can improve trust and satisfaction among patients and their care teams.
Communicating about OpenNotes requires different messaging for two different audiences. To help health systems get started, we recently launched the OpenNotes Communications Toolkit with sample announcements, email templates, and graphics. The toolkit is brand new, but we already see interest, based on the number of phone calls and emails we are receiving from a group of new implementers in New York state.
The work continues.
Today I receive my care at two academic medical centers in California—neither system is sharing notes with patients, but I'm working on that. I have asked for my notes from my team of doctors. I'm grateful that each has found a way to get them to me by copying, pasting and emailing, or printing and sending through snail mail. Whatever the method, I do see my notes. I'm glad to have them, but I know it will be better for me and for my doctors when I can read my notes easily on the patient portal, along with the rest of my medical information.
Easy access to information is what future healthcare consumers are going to expect. That expectation will continue to grow as people live longer with chronic conditions and serious illness, or begin providing care for others.
I can't believe it took a massive medical records request for me to stumble across my notes. There isn't a single thing in my notes I don't understand. I wish I could have seen them earlier.
Patients are hungry for information, and they can handle it. We need to remove the barriers, let patients know the notes exist, open them up and invite patients to read them.
Patients: Want access to your notes? Ask your doctor! This is the letter Liz sent to her doctors asking for her notes.