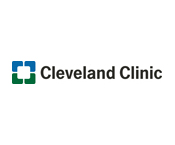 Most people find (and look for) meaning and value in the relationships they have with each other, and when it comes to healthcare, with their healthcare provider/physician. Cleveland Clinic's Center of Excellence in Healthcare Communication's effort is perhaps most innovative in the sense that it uses foundational concepts in innovative ways. It leverages relationship centered care as a means of engaging patients more effectively with their providers. For example, when shared decision- making occurs, patients are more invested in healthcare decisions. The relationships that form between patient and provider can be therapeutic for both, foster safety, build loyalty and grow trust, if we build them with effective communication strategies. Furthermore, working with experienced physicians and clinicians is rarely done at this scale and there is little known about its impact. We've been able to take what could be an amorphous topic, communication skills, and apply a strategy to an entire organization, create a consistent model, and have data to demonstrate its impact on patients and providers.
Nomination Narrative
Decades of research support the impact of effective communication on caregiver engagement and satisfaction, as well as patient compliance, safety, and outcomes and there are increasing demands on caregivers to do more with less, see more patients and provide better outcomes. Underscoring the importance of communication, publicly-reported patient satisfaction scores are raising the bar in this regard; many physicians may have felt that their patient-communication is highly effective, and still may be faced with the challenge of learning ways to improve them. It is important to note that the ideal state in our healthcare philosophy is engaged patients working with engaged providers to drive better outcomes.
One of many Center of Excellence in Healthcare Communication (CEHC) offerings, the team created a one-day foundational course in relationship-centered communication skills (FHC) for physicians and advanced clinical care providers. The course is a blend of best practices, a homegrown model of communication (REDE), brief didactics, skills practice, and a facilitated practice of communication challenges brought by the clinicians themselves. Twelve participants complete the course with two peer facilitators. The course is strategically interdisciplinary and is facilitated by 40 physician peers, medical and surgical and 20 advanced care providers who undergo eight days of training. The REDE model stands for Relationship Establishment, Development, and Engagement, which harnesses the therapeutic power of relationships for both the provider and the patient. The course was reviewed by our patients and their loved ones in our patient advisory councils to incorporate their input. Ultimately, we were asked by our CEO, D.r Delos Cosgrove, to roll the program out to the Cleveland Clinic physicians between August 2013 and April 2014, which totaled 3,076 physicians.
This program is a collaborative endeavor across silos in healthcare between the medical school, staff affairs, and patient experience. To the best of our knowledge, we are the only organization which has now evolved consistent communication model that is taught along the physician's professional continuum, from the medical student to the senior neurosurgeon. We innovated not the communication skills themselves, but the way they were taught and the educational delivery. We use methods from improve to standardized patients, to action methods requiring physical movement and creativity as a means of engaging providers. We intentionally built into the methods the parallel process of modeling the skills we are hoping to engender in our learners and our facilitators undergo quarterly faculty development and observation with feedback, so that we ourselves are truly lifelong learners.
Thus, the primary reasons for why this program and team achieved success in patient engagement is because we:
Effectively engaged over 3000 physicians (staff of 2000, fellows, residents) in a creative communication skills training program as evidenced by our data.
We incorporated patient perspective (council members as well as patient satisfaction data) into the program content and delivery.
Impacted the provider experience, but also the patients' perception of being seen and heard by their providers as captured by CGCAHPS surveys.
Results
Participants identified by their NPI number, complete a pre- and post- survey the day of the course and at three months post-course. All data is then linked to that provider's respective outpatient satisfaction surveys (CGCAHPS- Clinician and Group consumer Assessment of Healthcare Providers and Systems) to determine the impact of course participation on patient experience.
Our preliminary data on 897 attending physicians reveals high course satisfaction with much improved perceptions of the value (18 to 54% strongly agree), relevance (25 to 62% strongly agree), and feasibility of implementing the communication skills taught (22 to 63% strongly agree) pre- to post-course. Participants also strongly agreed that the course enhanced knowledge (61%), changed attitudes (48%), and enhanced their skill set (56%), (p<0.001). All measures of self-efficacy for the REDE model showed statistically significant improvement, P<0.001). Over 94% indicated they would recommend the course to a friend. Lastly, there was statistically significant improvement on both the Jefferson Scale of Empathy and decrease on the Maslach Burnout Inventory, especially in emotional exhaustion.
We also created a control group of staff physicians who did not complete the course during this timeframe and adjusted for age, years in practice, specialty, and baseline CGCAHPS score and found assessment of CGCAHPS data six months pre- and post-course yielded clinically significant improvement in 6 out of 7 communication domains, including information, listening, respect, knowing history, all p<0.05. This finding was stable no matter how high or low initial CGCAHPS scores were.
"While it is essential to listen, it also important to find the words that illustrate that the caregiver is truly bearing witness to the suffering, trauma and chaos that may be occurring in the patient's life. You are able to share that language of understanding and hope that patients are desperate to hear."
– FHC participant