Sherman Award
for Excellence in Patient Engagement
2021 Nominations for the Sherman Awards for Excellence in Patient Engagement TBD.
The Sherman Award: Recognizing the best patient and family engagement programs
The Sherman Award for Excellence in Patient Engagement recognizes innovative programs that focus on building stronger engagement through deeper, more meaningful communication and relationships with patients and families. The honor is conferred annually by Taylor Healthcare and the Institute for Healthcare Improvement Lucian Leape Institute on behalf of EngagingPatients.org.
2019 Winners:
2019 Sherman Awards Five Year Recap

Visit the 2018 Winners
Page for more information.
Established in 2014, the Sherman Award is dedicated to recognizing innovative work that has resulted in better, safer care and improved outcomes by engaging patients and families. The award, a partnership between EngagingPatients.org, IHI/National Patient Safety Foundation's Lucian Leape Institute and Taylor Healthcare, was conferred at the NPSF/IHI Annual Patient Safety Congress in Boston, Mass. on May 24. 2018 winners are MedStar Health Sepsis Collaborative and Memorial Rehabilitation Institute Family in Training program. Dayton Children's Hospital was recognized with the Sherman Citation for Excellence in Pediatric Patient Engagement. Judges also named several finalists: Allina Health's Breast Program Committee (Minneapolis, Minn.), Lutheran Home of Southbury's Music & Memory program (Southbury, Conn.), MedStar Health's SiTEL program (Washington, DC); Cleveland Clinic's Our Voice Healthcare Partners Team (Cleveland, Ohio); University Medical Center Groningen's INVOLVED program (Groningen, The Netherlands), Health Central Hospital's Patient and Family Advisor Rounding program (Ocoee, Fla.), Memorial Regional Hospital's Mobility Team (Hollywood, Fla.) and Memorial Healthcare System's Integrative Medicine program (Hollywood, Fla.). The winning program and finalists will be featured here during the coming months.
A WORD ABOUT RESULTS*
It is important to quantify results. Results can come in many forms — from quality, financial and patient satisfaction metrics to testimonial stories that document the achievement. Present results in the manner you feel best represents this nominee's achievement in patient engagement.*Work must have occurred between January 1, 2019 and January 21, 2020.
ABOUT JOHN Q. SHERMAN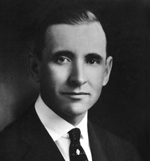 Founder of Standard Register, John Q. Sherman was a leading philanthropist in Dayton, Ohio with a deep commitment to healthcare and his community. At the onset of the Great Depression in 1928, he led the campaign to raise over one million dollars in just 30 days to build Good Samaritan Hospital. He left a legacy that lives on today through the company's support of Dayton's Samaritan Homeless Clinic, in the launching of EngagingPatients.org and now through the John Q. Sherman Award program.