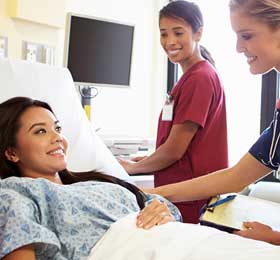 Next month, after the holidays have been celebrated and the New Year embraced, nominations will open for the 2018 Sherman Award for Excellence in Patient Engagement. Now is the perfect time to review this past year's projects, challenges and accomplishments, and find those individuals and programs that stand out for their efforts to engage patients in healthcare.
The Sherman Award recognizes efforts to foster and improve the engagement of patients and family members across all settings: inpatient and ambulatory care facilities, physician offices, long-term care settings, pharmacies, home care, schools, community clinics and more.
Nominate a colleague, a unit, or yourself—for programs that demonstrate an innovative solution, novel implementation, unique setting, sound business case, good outcome or other measurable improvement to patient engagement. Results can come in many forms, including, for example, patient satisfaction metrics, financial results or testimonial stories that document achievement. The nomination process includes quantifying the effort's success; it may be helpful to think now about how to demonstrate your program's accomplishments.
This is also a good time to review stories about past finalists and winners on EngagingPatients.org. The Sherman Award has been awarded annually since 2014. Stories from each year are archived permanently on the Best Practices page of EngagingPatients.org to provide inspiration and lessons learned about engagement. The page is also a way to continually honor the work of dedicated programs and individuals.
The Sherman Award winners for 2017 were:
The PROMIS Team at the University of Rochester (New York) for its patient-reported outcomes program
The Client & Family Centered Care Simulation Development Team at Holland Bloorview Kids Rehabilitation Hospital in Toronto, Ontario
And the programs that were named finalists in 2017 were:
The Family Resource Connection program at Dayton Children's Hospital
The Health Professions Affinity Community program at Northeast Ohio Medical University
Brigham Health for the Safety Matters blog
The 2018 award will be conferred by Taylor Healthcare in partnership with the IHI/NPSF Lucian Leape Institute at the 20th annual Patient Safety Congress, which will take place in Boston, Mass. on May 24, 2018. The winner will receive an all-expenses-paid trip to the Congress.