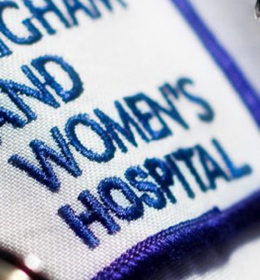 Editor's Note: With remarkable transparency, Brigham Health uses the Safety Matters blog to report patient safety mistakes and near misses and share what they've learned. The blog also provides educational information for patients and a forum for input from the community. For this program, Brigham Health was named a finalist for the 2017 Sherman Award for Excellence in Patient Engagement.
Brigham Health (BH) is dedicated to providing the safest, highest quality care to every patient and family member we serve. As part of our commitment, we created the Safety Matters blog, to discuss issues in patient safety, patient experience and healthcare quality.
The goal of the BH Safety Matters blog is to engage a broad audience about what we have learned from our efforts to deliver the safest care and develop a hospital culture where our staff are comfortable speaking up about safety concerns.
Problem Identification & Solution
The Patient Safety Team to launched Safety Matters to increase transparency and share lessons learned from our own patient safety mistakes and near misses. BH staff submit approximately 11,000 safety reports per year. Safety Matters is one forum for providing feedback to reporters and allowing for organization-wide learning about errors. Readers' comments on our blog help other patients as well as our own healthcare providers learn how to better navigate the system. Discussing safety events is a critical way to educate staff throughout the hospital and prevent such errors from happening again, while also encouraging patients to take an active role in their care.
After four years as an internal online newsletter, Safety Matters became an external blog in December 2015. The blog has covered topics ranging from medication errors to procedural errors, and near misses, as well as tips on how patients can best advocate for their own care. Recently, we have expanded to also blog about front-of-mind quality and safety topics.
Patient & Family Involvement
The BH Patient Safety Team interviews staff involved in the case. We also work closely with our Center for Patients and Families and Communication & Public Affairs when interviewing patients and their families, to help them feel comfortable sharing their stories. Engaging patients and families is pivotal because it lets care providers understand how mistakes affect the lives of those they care for and aids in the healing process. It also shows that we take errors very seriously and want to work together with patients and families to make BH a safer place. Including voices of patients and their family demonstrates to patients, prospective patients and other stakeholders that the hospital is committed to transparency, quality and safety and values continuous improvement. Readers' comments encourage others to practice these principles and improve healthcare across the continuum of care. The Patient Safety Team reviews and publishes readers' comments so they know their voices are heard and uses the feedback to help make BH a safer place. This open communication promotes trust and goodwill between patients and providers.
Communication Initiatives
Incorporating patient and family perspectives into compelling stories published on Safety Matters helps to support a culture where we acknowledge mistakes and openly discuss them in a blame-free environment and take steps to prevent similar errors in the future. Greater transparency and open discussion about patient safety events allows for communication across the hospital, promoting the spread of ideas for change. Specific communication and engagement tactics integrated into the overall initiative have included:
Promoting the Safety Matters blog through all user email blasts and on the Community Connects digital signage system throughout the BH distributed campus.
Highlighting Safety Matters posts on BH social media channels and in internal newsletters.
Eliciting story ideas at various meetings and allowing other departments to submit ideas to the Patient Safety Team.
Discussing Safety Matters on Executive Walkrounds visits to patient care areas to gain staff and patient input on how we can make Brigham a safer place
Making print copies of the blog available on tables at various events and in clinics and waiting rooms.
Recognizing BHers for their outstanding dedication to and innovation in patient safety at BWH with Safety Matters Awards during Patient Safety Week.
Inspiring Staff to Focus on Patients & Families
The BH Patient Safety Team deserves recognition for being courageous in making medical errors public and serving as role models for other institutions to follow in urging patients to take an active role in their care and speak up for their safety. The blog engages patients in an innovative way, promoting collaboration with healthcare providers through inspirational stories of safety events and transforming culture. To our knowledge, Safety Matters is the only blog of its kind, but we hope that other institutions take the bold leap of openly communicating about safety risks and near misses with their patients and the healthcare community at large.
Transformation of Care Delivery
Safety Matters helps perpetuate a fair and just culture by responding in a fair and consistent manner to adverse events, educating through transparent dialogue about risks and safety expectations and proactively managing risks and behavioral choices. Just Culture adoption assures:
Staff will feel safe reporting their mistakes and workplace hazards, knowing that safety issues will be addressed and they will be treated in a just, fair and consistent manner.
Leaders will investigate events by using a standard and consistent approach.
Leaders will identify and focus on improving processes and removing safety hazards.
Expectations for safe performance will be clear and well-defined.
All of these factors will help engage patients, improve our efforts to provide the safest care and ultimately contribute to higher patient, family and staff satisfaction. In one recent issue of Safety Matters, "Making Our Hospital Safer," we highlighted how Just Culture principles were applied after a stretcher became lodged in a MRI, requiring extensive repairs and downtime.
Impact on Patient Experience & Outcomes
Here is an example of one of our stories demonstrating patient engagement, satisfaction and testimonial: https://bwhsafetymatters.org/price-checking-for-prescriptions-results-in-dangerous-combination-of-medications/.
Readers of Safety Matters have offered their support and praise through comments like:
"First, major kudos for the exceptional transparency. This is the mark of an outstanding leadership and demonstrates a culture of quality."
"I am impressed and encouraged by what you are doing with this blog. BWH's commitment to sharing information with the purpose of helping not only your hospital to learn and improve, but other providers as well is exemplary of the kind of approach that will help our healthcare system to truly evolve. It indicates the kind of real commitment to doing the right thing for patients that is spoken by many but rarely demonstrated with such power."
"The real-life examples shared are very helpful as we endeavor to build a stronger 'culture-of safety attitude' in the formation of the next generation…"
We hope that you enjoy reading Safety Matters. It has also been celebrated in multiple publications, including: