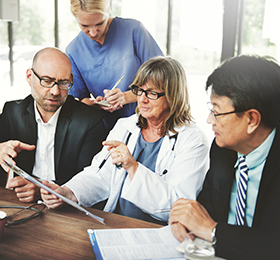 A few years back, I injured my right leg and had to go urgently to an emergency room in a busy suburban hospital not far from my home. As both a physician and engaged patient, I observed numerous patient safety lapses during my care, none of which, fortunately, resulted in harm. Although I was distressed by the errors, in the end I was heartened by the actions of a phlebotomist who demonstrated effective problem solving and leadership, helping to instill some reliability at her institution. Solutions to a key problem came not from leaders at the top but from engaged front-line workers, the "grass-rooters" who live with patient safety challenges day in and day out!
I had been out running and unfortunately tore my right calf muscle by stretching to reach a curb. The pain was terrible. As the swelling progressed, it became apparent that I was developing a compartment syndrome, i.e., compromised circulation and neural function beyond the point of injury due to massive soft tissue swelling or hemorrhage and compression of nerves and blood vessels. Compartment syndrome may require surgical intervention; hence my urgent trip to the emergency room.
Further evaluation, including several exams and imaging studies, revealed massive swelling but no clot in my right calf, therefore no surgery was needed.
Unfortunately, the processes of my evaluation and the engagement of numerous healthcare professionals and paraprofessionals left much to be desired. Errors in performance abounded, all decreasing the efficiency of my evaluation and putting me at unnecessary risk.
To begin with, when I registered at the front desk of the emergency room, I was misidentified and given a wristband of a patient with the same name but a different date of birth. I was in too much pain at this point to pay attention to this detail and frankly thought the birthdate (number characters all in linear sequence beginning with year) was actually some sort of hospital number. This misidentification led to considerable confusion regarding my past history, etc. While the nursing staff was trying to figure out who I was (of course I knew full well who I was, but no one seemed to listen), my leg was turning purple and sensation was disappearing and no one was paying attention to me – until I pointed this out.
Despite the fact that I was examined by at least three physicians and four to six nurses and radiology technicians, only occasionally did anyone wash their hands and several seemed annoyed when I asked them to do so. The physicians examining me did not clean off their stethoscopes until I asked them to do so, again seeming annoyed when I pointed this out. The radiology technician did not wash her hands or provide me with gonadal shielding even though she was performing a CT scan up to my mid-thigh looking for venous thrombosis.
As my studies did not reveal a clot requiring surgical evacuation, I was admitted for overnight rest and observation. I was assessed by a nurse who omitted to do a risk assessment for falls, even though I could not bear weight on my right let. I was really exhausted by this time and knew very well my risks for falling, so I did not raise the issue. I just wanted to go to bed and relax.
I was assessed several times overnight, with pulse checks in my right leg, seen by an orthopedic surgeon in the morning and discharged. The nurse who had admitted me the night before returned to provide discharge instructions and asked if she could do the risk assessment for falls in order to complete the admission process. I let her do the assessment but compassionately pointed out that it seemed a bit silly at this point.
Finally, just prior to discharge, I was advised that a local company would bring a walker-frame to my home but, despite multiple phone calls, it did not arrive for three days. Fortunately a neighbor lent me a walker, and my wife helped me amble around otherwise. Things improved steadily with physical therapy over a few weeks to complete resolution.
So, though I was "cared" for by many professionals and paraprofessionals, there were far too many slips and errors in my care for me to remain quiet for long as the risks to myself and others were quite substantial.
Failure of Patient Safety Leadership, not of Individuals
A week after discharge, I received a telephone call from the orthopedic case manager enquiring as to how I was getting along. I took the opportunity to summarize all of the concerns listed above but began by saying:
I am going to give you a list of opportunities for improvements in patient safety that I observed during my emergency room visit and overnight stay on the inpatient unit, but before I do that I want you to promise me something. I do not want you going back to any of the individuals involved in my care. The problems in your hospital, the lack of attention to details that ensure patient safety, are so widespread and manifest, that your hospital has a major cultural problem and thus both leadership and "followership" problems. I suspect that one could have easily have substituted other healthcare staff for those who assisted me, and I am willing to bet the behaviors I observed would have likely been the same in many instances. Your hospital culture is not focused on patient safety. The problem is lack of a safety culture, and that implies a lack of leadership.
Another few weeks passed, and I received a form letter from the hospital's chief medical officer thanking me for my comments and assuring me that "highest quality patient care and safety is our number one priority." I wondered. I gave him a call and asked him what he intended to do about hand washing as a specific challenge. He referred to some training programs and poster placements and "perhaps we will use some monitors," but…
A few years passed; fortunately I had no need to return to the emergency room. Then a couple of weeks back I had to visit this hospital's lab to provide a blood sample for routine studies ordered by my internist. The staff member at the check-in desk was very efficient and courteous, and there was a bottle of hand cleanser on top of the counter.
I was advised to go down the corridor to the blood-drawing room and have a seat. The phlebotomist walked into the blood drawing room and immediately introduced herself saying, "Hello, my name is Julie and I am going to clean my hands (foam in) before we get started." I was startled and pleased. I asked her why she had introduced herself this way and she replied:
Well, we all seem to forget to wash our hands from time to time despite all the training and messaging. So the lab and phlebotomy teams decided that we would always introduce ourselves to patients by specifically mentioning that we are going to clean our hands before getting started. Now, everyone does this and everyone washes their hands all the time. We realized this was the reminder we needed and it works.
Lesson: The grassroots are flourishing; you never know where the best ideas will come from. High-reliability organizations value the contributions of front-line workers who know the processes and their pitfalls.
Small steps, quality improvement, culture and patient safety. Look to the front lines, the grass roots; nurture and fertilize them!