One Friday in late April, I was at a conference and couldn't stop coughing. I thought it was allergies or my asthma acting up. I kept taking Benadryl and using my inhaler, but the croupy cough kept getting worse. I left early and headed home. But, by 6pm that evening, I knew I needed to go to the ER.
Hospital No. 1:
On Friday evening, I arrived in the ER at my local community hospital. They were extremely efficient and personable. While I was getting a breathing treatment, they were trying to do the medication reconciliation, but I couldn't talk and remembering my medications was not high on my list. I gave the nurse my iPhone after opening up my online health record so she could access my medication list. I was stabilized and sent home a few hours later with instructions to return if things got worse. Twenty-four hours later, on Saturday evening, I could barely breathe, and I went back to the same emergency room. The decision to admit me was made immediately.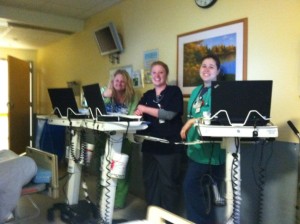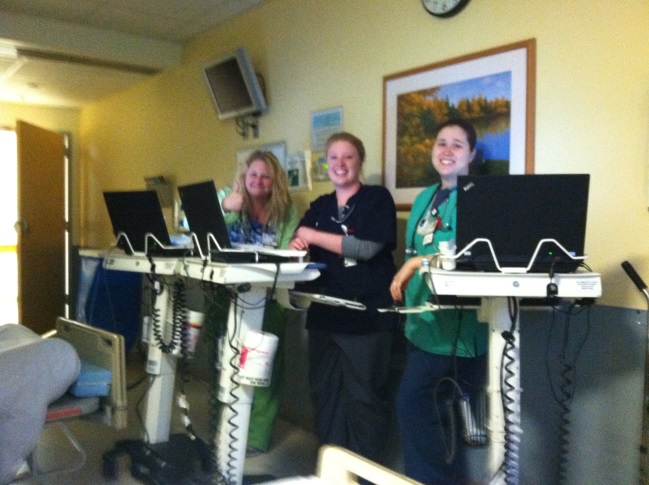 This admission started off differently than any I had ever experienced. The nurse spent over an hour going over my medical history, medication list, and looking over my entire body. They included my husband in everything, and this helped to alleviate some of his anxiety about my condition. I spent the next five days getting tests, breathing treatments, steroids and oxygen. I was continually amazed at how friendly and engaging the staff was. This was consistent from my nurses, the nursing supervisor (who introduced herself at every shift), housekeeping, respiratory, x-ray techs, food service staff, etc. Everyone went above and beyond for my needs. It didn't matter whether it was technically their job or not, it truly was all about me, the patient.
I work in the healthcare industry and have been hearing about bedside shift changes for years, but have never personally experienced one until then. I even took a picture because I was so impressed! They engaged me in this routine every time. It was an opportunity to learn about my lab results, tests that would be performed and why, and even let them know about things that they did not have documented. I found the shift change at the bedside an unspoken invitation for me to participate. The staff also gave me information on every drug I was administered so that I could learn more about it on my own time.
When I was being discharged, I asked the hospitalist to call my primary care physician (PCP) with all the information he gave me. I was afraid that something would get lost in translation. He made the call, spoke to my doctor, and sent her the discharge notes. After spending five days in the hospital, I got hugs and well wishes from everybody as I was leaving.
Hospital No. 2:
On Saturday, two days after discharge, my knees became swollen to twice their size. I called my PCP's office, and the covering physician suggested making an appointment with urgent care (affiliated with my PCP's office and a major medical center.) When my husband and I arrived, we had a short wait. We were taken to the examine room and told that the doctor would be right in. As the doctor was walking in, she was introducing herself while looking at my chart. We couldn't even understand what she was saying. I told her why I was there and that the covering physician suggested I check in with urgent care. I also handed her the discharge notes, thinking they might be helpful. She asked me where the notes were from. When I told her, she said she couldn't use them because they weren't from the current institution. I was a shocked by her dismissal of information that could be very relevant.
The doctor told me that she would run some tests just to make sure nothing else was going on. When I asked when she would get back to me with the results, she replied, "Maybe later or first thing in the morning. I have a toddler to deal with when I get home." I was a bit shocked by this, and my husband looked like he was going to explode. She then said, "I assume you don't want to wait since you came here instead of the ER." I told her the covering doctor thought she would make the assessment and decide if I needed to go through the ER. She told me that someone would be in to take blood and other tests and left the room.
Next, the medical assistant came in to take blood. My husband asked her to wash her hands, and he added that I have a history of MRSA. I wish I had a picture of what happened next.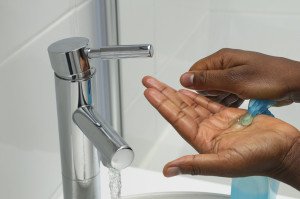 She put her hands on her hips and flippantly asked him which way he wanted her to wash her hands – "with soap and water or hand sanitizer?" She was indignant and told us she washed her hands before she came in. Of course, she had touched the door and several other things. When my husband and I were leaving the office, we had to walk through a very narrow hallway where the medical assistant and doctor were having a discussion. They were going back and forth:
MA: I always wash my hands out here before going into the rooms, you see me!
DR: l know you wash your hands out here every time.
This conversation continued as my husband and I walked by. They were either unaware that we could hear them talking or, of more concern, didn't care.
Needless to say, the conversation on the ride home was quite emotional as my husband and I recounted these two very different experiences.
I am what you would call a healthcare "frequent flyer." I was born with bilateral club feet, and I have been in and out of hospitals my entire life. This experience highlighted for me that my expectations of healthcare are so low, but not anymore! For more than a decade, I have worked in the healthcare industry in quality and safety, and my perspective has been shaped by these experiences.
What struck me most about Hospital No. 1:
Beside shift change – A practice geared toward engaging, informing, and educating the patient as well as the caregivers. I saw first hand how a bedside shift change can help to significantly curtail communication errors so commonly made at this crucial time.

A culture of compassion and respect – Not only were the doctors and nurses attentive and responsive to my needs, everyone throughout the organization (x-ray, food service, transport, etc.) treated me, and my husband, with kindness and dignity.
I am hopeful that as more organizations adopt patient- and family-centered practices, experiences like mine at Hospital No. 1 will become the norm. Clearly, though, my experience at Hospital No. 2 indicates that we still have a long way to go.
What have your hospital experiences been like? Were you engaged in your care? Did your family members feel included on your care team? Or, can you relate to the frazzled medical assistant being asked, yet again, to wash her hands? The doctor distracted by the active toddler at home? What is your perspective?