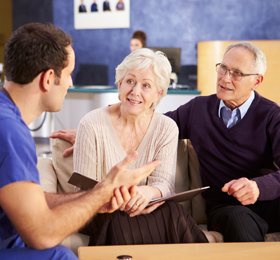 Editor's Note: Informed consent is far more than getting a signature on a form. A true informed consent process requires patient engagement and involvement to ensure the best clinical outcome. Here, Dr. Aaron Fink outlines the challenges with regulatory compliance and offers a practical solution for truly engaging with patients in the process.
Informed consent is a critical element of modern-day clinical practice. This vital process seeks to preserve patient autonomy and self-determination. When properly undertaken, informed consent ensures that patients' legal rights are protected and unwanted procedures are not performed. As frequently noted in the ethics literature on this subject, informed consent "is not an event but a process that precedes the 'signing' of the [informed consent] document and continues as long as the choice remains relevant."[1]
Despite its obvious importance, a comprehensive informed consent discussion clearly demands significant time commitments on the part of busy clinicians. Studies have reported mean times for obtaining informed consent ranging from 10.9 to 16.1 minutes[2-4] . For many practitioners, these measurements may well underestimate the actual time required.
Unfortunately, the pressures inherent within current clinical practice often lead clinicians to merely focus on obtaining the patient's signature on the informed consent document rather than on the interactive conversation underpinning the informed consent discussion.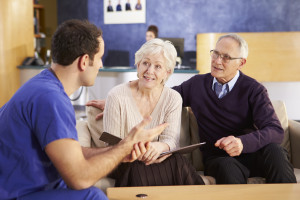 The signed consent form must not be confused with the informed consent process. The sole intent of the form is to confirm and document that the informed consent discussion actually occurred. Obviously, no patient ever should proceed into the operating room without a properly executed consent form. That said, deficiencies in even meeting this simple requirement continue to be documented.[5, 6] By way of example, a recent study from Johns Hopkins noted that signed consent forms were missing in two-thirds of scheduled surgeries, resulting in delays in 14% of all operative cases.[7]
The Role of Accrediting Organizations
In view of these and other concerns, accrediting organizations and healthcare payers increasingly have focused on the specific elements that should be included in a well-designed informed consent process. Given that the primary surgeon bears the responsibility for obtaining informed consent, the American College of Surgeons (ACS) has developed guidelines outlining the appropriate manner by which this responsibility should be met.
These guidelines emphasize that when obtaining consent, a surgeon must address the critical components of the informed consent process (e.g. diagnosis, intended procedure, risks and benefits, alternatives and risks of deferring treatment) in a fair, clear, and accurate manner.
As outlined in Standards RC.02.01.01, RI.01.03.01, RI.01.03.03 and RI.01.03.05, the Joint Commission (TJC) also has focused on the informed consent process as a critical element to be reviewed during their visits. Their standards not only re-emphasize the critical components cited above, they also require that a facility clearly delineate and mandate a comprehensive informed consent process within its policies. The Joint Commission recently published an updated publication reviewing practices by which an organization can best implement such a process.
The Centers for Medicare and Medicaid Services (CMS) informed consent guidelines demand even more detail in a facility's informed consent policies than TJC. Although their revised guidelines also require the critical components of the informed consent process to be included in the clinical record (e.g. consent form, operative note, clinical visit record), the CMS guidelines go beyond the TJC's requirements. Thus, the CMS guidelines mandate inclusion of many elements within the actual informed consent document while specifying how informed consent practice is to be evaluated during survey visits. As known to many healthcare facilities, several of the elements mandated in the consent document (e.g. date and time of signatures, statements regarding provision of care by providers other than the primary surgeon, etc.) often are found to be deficient during survey visits. Clearly, an institution faces significant challenges when seeking to ensure that its informed consent practices meet all of these regulatory requirements.
Recommendations for Achieving and Maintaining Compliance
In 2004, the Department of Veterans Affairs (DVA) deployed an automated informed consent system across its entire healthcare organization. This program provides more than 3500 procedure-specific documents across 30 specialties, all of which are reviewed and updated on an annual basis. In addition, the application offers pre- and post-procedure instructions as well as anatomical images and medication monographs. Following dissemination, utilization rapidly approached 100% and tort claims for inadequate informed consent essentially disappeared from the system. In a subsequent randomized controlled trial, the application was shown to enhance patient comprehension of the informed consent discussion and to be acceptable to patients and providers.[2] Of import, all documents produced by the automated informed consent system are fully compliant with TJC and CMS requirements.
In the August issue of their bulletin, the ACS revisits informed consent[8]. The authors report that a 2006 member survey on informed consent practices documented strong support for models that would automate the informed consent process. The ACS comments that "an automated approach can simplify and streamline the informed process and provides the added value of bolstering the role of patient as partner and enhancing patient safety".[8] Based on the application's track record in the DVA as well as the results of their surveys, the ACS recommends that their members consider solutions that automate the informed consent process.
Increasingly, healthcare organizations are recognizing the ACS's guidance and are considering automation of the informed consent process. Automation facilitates control of consent document versions while eliminating errors and omissions that frequently occur with complex, paper-based forms. In addition, automated systems ensure capture of all consent documents in the electronic medical record including automated generation of notes documenting details of the informed consent discussion. Several studies have clearly demonstrated that patients overwhelmingly prefer an electronic approach to a traditional, paper-based informed consent process.[2, 9] The additional benefits of improved OR start times and decreased legal exposure strongly support adoption of automated informed consents solutions in addressing CMS (and other regulatory) requirements.
Hall, D.E., A.V. Prochazka, and A.S. Fink, Informed consent for clinical treatment. CMAJ, 2012. 184(5): p. 533-40.
Fink, A.S., et al., Enhancement of surgical informed consent by addition of repeat back: a multicenter, randomized controlled clinical trial. Ann Surg, 2010. 252(1): p. 27-36.
Braddock, C., 3rd, et al., "Surgery is certainly one good option": quality and time-efficiency of informed decision-making in surgery. J Bone Joint Surg Am, 2008. 90(9): p. 1830-8.
Black, S.A., et al., Gaining consent for carotid surgery: a simulation-based study of vascular surgeons. Eur J Vasc Endovasc Surg, 2009. 37(2): p. 134-9.
Bottrell, M.M., et al., Hospital informed consent for procedure forms: facilitating quality patient-physician interaction. Arch Surg, 2000. 135(1): p. 26-33.
Siddins, M.T., E.M. Klinken, and L.R. Vocale, Adequacy of consent documentation in a specialty surgical unit: time for community debate? Med J Aust, 2009. 191(5): p. 259-62.
Garonzik-Wang, J.M., et al., Missing consent forms in the preoperative area: a single-center assessment of the scope of the problem and its downstream effects. JAMA Surg, 2013. 148(9): p. 886-9.
Heneghan, K., Walter, K.R., Your ACS Benefits: Legislative activities and informed consent, in Bulletin of the American College of Surgeons. 2016. p. 61-65.
Issa, M.M., et al., Informed versus uninformed consent for prostate surgery: the value of electronic consents. J Urol, 2006. 176(2): p. 694-9.