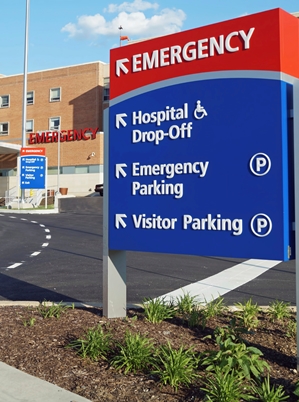 With the rapid rise of accountable care organizations, transitioning from fee-for-service to population-based contracting is the new norm. Population management refocuses providers and administrators from volume to value and is great news for patients. Value is the triad of safety, satisfaction and savings. It can be viewed as a three-legged stool where the span and strength of each leg defines stability. Such balance is applicable to everything – from a highly complex system to a single EMR order set to achieving the holy grail of hiring – someone smart, nice and fast!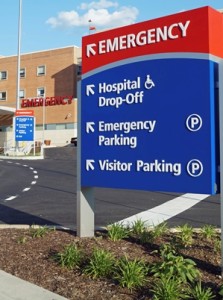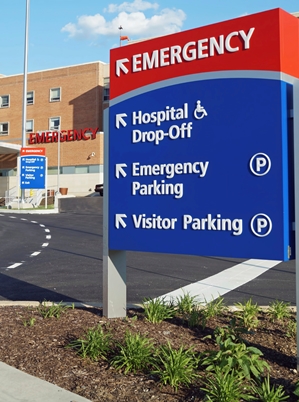 The Conundrum
Creating a positive ED experience primarily requires competent, empathetic staff and short turnaround times.Of course, this produces a population management debacle in that other sources of care may become less preferred. Stuck squarely in the middle are primary care providers (PCP) who are held accountable when assigned patients stray from the medical home. Primary care providers are the only realistic ED gatekeepers since denial of emergency care by an ED staff member can generate severe EMTALA (Emergency Medical Treatment and Active Labor Act) penalties and civil lawsuits should a patient unsuspectedly become critically ill the next day. Also, most ED leaders welcome minor care cases, especially those with private insurance that can fill pockets of time between sicker patients awaiting tests, consultations and transfer to inpatient beds.
Recidivism? Maybe not
Primary care providers willing to accommodate same-day and after-hours visits influence patient choices. However, because most are scheduled at maximal capacity, "just go to the ED" is common telephone advice. In fact, many insured patients see a favorable cost-versus-time benefit, especially in EDs with short waits despite steep co-payments requirements. For public aid recipients, the ED fulfills care needs without a financial barrier which explains their two-fold utilization rate.For these reasons, it's inaccurate to characterize frequent ED visitors as recidivists. Recidivism requires "repeating a behavior when negative consequences or superior alternatives are evident."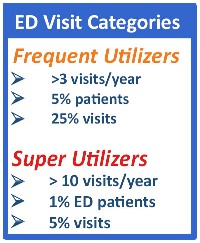 ED utilization is gauged by the prevalence of frequent utilizers, those with more than three visits in the past year, and super utilizers, who visit the ED more than 10 times in a year. In a typical ED, these groups respectively comprise 5% and 1% of patients and 25% and 5% of total annual visits. Research demonstrates that ACO and hospital costs are significantly reduced by safely controlling the behavior of these groups. As well, ACO contract positions are strengthened.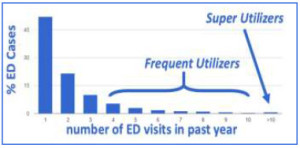 Once population-based reimbursement prevails, the landscape will change. There will be much greater cost savings with care coordination that avoids duplicate work-ups, improves medical compliance and reduces unnecessary admissions. ACOs will reform the PCP bonus plans so that more unscheduled care is managed in offices. As a result, we can anticipate there will be some relief of ED crowding and a safer, more satisfying environment for patients and staff. Nonetheless, there's value in understanding the frequent ED user if our end goal is to deliver the value triad — safety, satisfaction and savings.
Understanding the ED Frequenter
As a whole, frequent ED users are heterogeneous. However, by separating them into four categories, distinct patterns emerge.
The Path to Better Care, Fewer Visits
Understanding the magnitude, scope and profile of frequent ED utilizers is the first step in providing patient-centered care and reducing unnecessary visits. Each group calls for a different approach. Next month's companion article will present effective strategies that safely curtail frequent visits while improving care by engaging a "care network."
Editor's note: Part II of this blog post will appear on EngagingPatients.org on January 22, 2015.
---
References