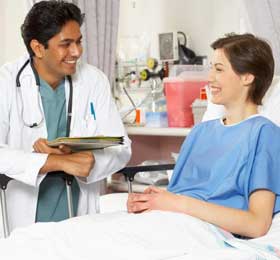 The patient safety movement and efforts to honor patients' preferences emphasize the importance of skillful communication on the part of physicians and other clinicians. Less attention has been paid to the effect of patients' communication skills. In addition to catching errors, patients can use effective communication skills to improve their health and the medical services they receive. Patients can contribute as much to helping things go right as they can to catching things that have gone or are about to go wrong.
Physicians' communication skills are central to patient safety. Not listening sufficiently, not being forthcoming when something has gone wrong, and not sharing important information during hand offs are among the ways physicians cause harm through poor communication. Conversely, to deliver patient-centered care, physicians must be able to communicate sincerely with patients about their individual circumstances, needs, and goals.
When treating patients in certain conditions, such as critical illness, language or cognitive difficulties, or cultural barriers, physicians must be prepared to deliver safe care even when patients are unable to provide information. All clinicians and health systems have a professional responsibility to deliver safe care, and communicating well is part of that. Expectations for patients are different; they cannot be presumed or pressured to participate beyond their abilities or desires, but their performance does make a difference.
For patients, practicing good communication skills is often a defensive action. Correcting information they know is wrong, questioning an action or medication that appears to be incorrect or asking clinicians to wash their hands are ways that patients can protect themselves by speaking up.
Learning about treatment options and making informed choices together with clinicians is another way patients contribute to safety and quality. Because shared decision-making only happens in partnership, the patient's role is more positive than defensive. In either role, to participate effectively, patients need to be accepted as partners, granted access to information and honored as important sources of information.
Patients as Communication Partners
In the diagnostic process, for example, input from patients is crucial. "When did your symptoms begin? Is the pain constant or intermittent? Have you had previous experience with similar symptoms?" are among the questions a physician might ask in the course of forming a diagnosis. When patients are equipped to participate to the best of their abilities—answering questions, gathering information, and giving feedback about the diagnostic process—they contribute to the accuracy and timeliness of diagnosis. Most patients, however, don't appreciate the importance of this role in safety.
In Improving Diagnosis in Heath Care, the Institute of Medicine (IOM, now the National Academy of Medicine) calls on clinicians and health systems to support patients as active partners in diagnosis. Ways to do that include steering patients toward reliable sources of relevant information and providing a respectful culture that encourages them to share their concerns, history and feedback.
A number of organizations, including the National Patient Safety Foundation (NPSF) and the Society to Improve Diagnosis in Medicine (SIDM), provide good sources of information designed to help patients join in the diagnostic process.
NPSF's "Ask Me Three" program helps providers coach patients to ask questions leading to improved engagement, understanding and health. Ask Me Three includes educational materials and an implementation guide.A specialized version of Ask Me Three, offered through SIDM, includes three "Good Questions for Getting the Right Diagnosis":
1. What could be causing my problem?
2. What else could it be?
3. When will I get my test results, and what should I do to follow up?
A flyer, available as a free PDF, provides patients space for note taking, further advice about when to ask for information, and follow up questions to ask their physicians.
SIDM also provides free access online to a patient toolkit, organized for patients in four how-to sections:
1. Prepare for my appointment
2. My symptoms or pain
3. My medications
4. After my doctor's visit: What's next?
In a section titled "Patient Engagement in Diagnosis," the IOM report (available as a free PDF online), includes a "Checklist for Getting the Right Diagnosis," which lists actions patients can take, such as telling your story well, keeping good records and knowing what to expect from prescribed treatments.
Patients and family members should never be pressured to participate in ways they find uncomfortable or unreasonable. Acting as equal partners in care is a new role for patients as well as clinicians. Most of us face climbing a big learning curve in order to perform at our best in these circumstances. Good resources are available for clinicians who want to encourage patient engagement and for patients who want to take action directly. The benefits for all are clear to see.