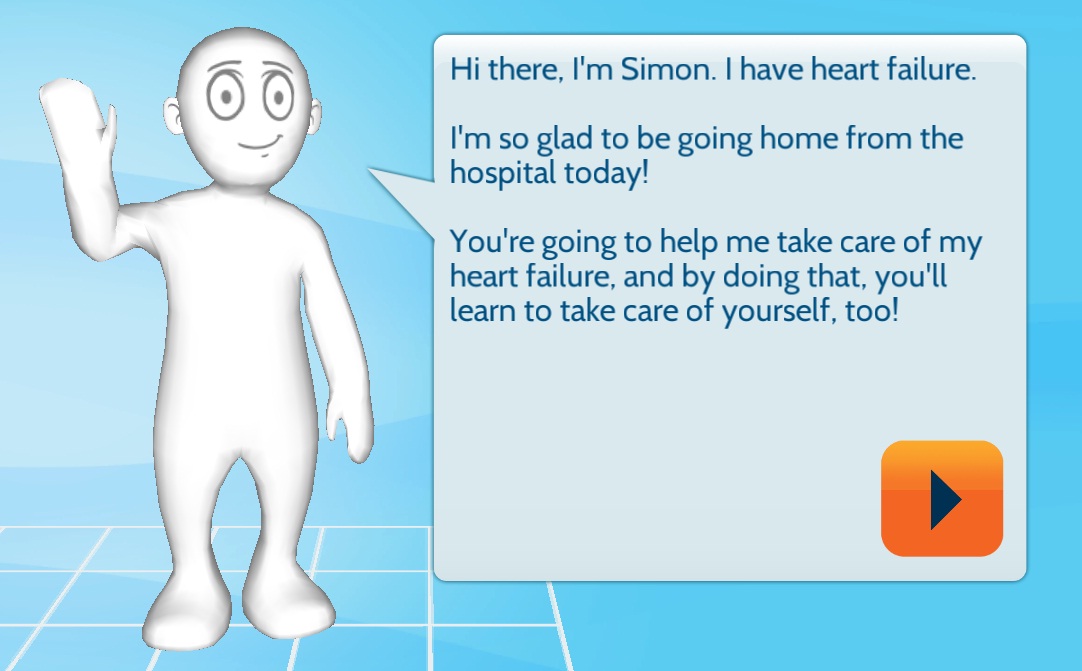 Today's chronic disease patient is often inundated with education about his or her condition. Although clinicians and educators have good intentions, and the material provided is robust and thorough, traditional education often fails to drive patients to make needed behavior changes.
The Challenge of the Returning Patient
Nearly 25% of patients hospitalized with congestive heart failure (CHF) are readmitted within 30 days across the United States, and for the full year of 2014, the UPMC heart failure readmission rate was at 19%.
Hospitals are penalized for CHF patients who are readmitted within 30 days of discharge. While reasons for readmission are complex, these readmissions often result from lack of patient engagement and behavior change by the patients after discharge.
UPMC partnered with SimCoach Games to apply the principles of gaming to a challenging disease such as congestive heart failure to drive home the basic skills needed for self-management and create a foundation for deeper, more traditional learning.
Introducing Simon
We worked with a team of UPMC clinicians including physicians, nurses, and pharmacists, to build an interactive game that patients (or family members) access on a tablet while in the hospital or at a doctor's appointment. Players interact with and coach Simon, a character with CHF who was recently released from the hospital, for a virtual week. Players are able to hear Simon tell them how he's feeling that day, see how his heart and lungs are doing, and watch for fluid retention in his legs and lungs. Players are responsible for completing three key behaviors daily for Simon:
Track his weight
Make sure he takes his medication
Call the doctor if there are any problems
At the end of the game, players are given feedback on their coaching of Simon – did they help him to complete the key behaviors? Was he was readmitted to the hospital?
Why Gaming?
Besides being more fun than traditional patient education, the gaming/coaching platform leverages qualities of games that are proven to facilitate learning and motivate behavior change. Video games are structured in a natural way adults learn by giving the player a goal, making active participation crucial for success, showing the consequences of choices, and giving feedback on the overall performance.
By immediately seeing how their choices impact the health outcomes of Simon, the character, the players learn that there are skills they can apply immediately toward a healthy lifestyle and improved outcomes.
Moving Forward
The original pilot was launched in the summer of 2013 across multiple UPMC hospitals, outpatient clinics and physician offices that see patients at risk for readmission for heart failure. Initial feedback was positive from staff and patients. Nurses noted that the game is a "good teaching tool" and "felt it was useful." Patients in the initial pilot "loved the program" and one noted that she "played it until I got it right!" Feedback was used to make improvements to the game and launch version 2.0 in late 2014. Improvements included:
Simplified setup for nurses
Ability to choose an inpatient vs. outpatient setting
Increased interaction between Simon and the player
Compatible versions for Windows® and Android devices
Version 2.0 is currently being piloted by transition care coordinators in some UPMC facilities and a system-wide rollout is in development. As we look to make this game available to as many CHF patients as possible, we continue to search for ways to teach patients in an engaging way in an effort to reduce readmissions, and explore adapting the gaming platform to other diseases.