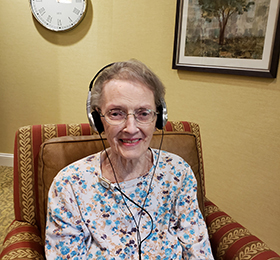 Editor's note: The nomination period for the 2019 Sherman Award for Excellence in Patient Engagement will open on Thurs., January 24 – one week from today. Given annually since 2014, the award recognizes efforts to foster and improve the engagement of patients and family members across all settings: inpatient and ambulatory care facilities, physician offices, long-term care settings, pharmacies, home care, schools, community clinics and more. As of last year, a special annual Sherman Citation for Excellence in Pediatric Patient Engagement is also awarded.
Please nominate a colleague, a unit or yourself for actions that demonstrate an innovative solution, novel implementation, unique setting, sound business case, good outcome or other measurable improvement to patient engagement. Results can come in many forms, including, for example, patient satisfaction metrics, financial results or testimonial stories that document achievement. There are many ways to demonstrate your program's accomplishments. For more information, click here.
For inspiration, review stories about past finalists and winners on EngagingPatients.org. Stories from each year are archived permanently on the Best Practices page of EngagingPatients.org to provide inspiration and lessons learned about engagement. The page is also a way to continually honor the work of dedicated programs and individuals. For summaries about the programs that gained Sherman Award recognition (finalists and winners) in 2018, click here.
The following is an encore post from July 2018, written by a Sherman Award finalist.
Engaging Patients With Personalized Music
by Janice Lexton, DNP, QCP, RN-BC
The Lutheran Home of Southbury (LHS) offers short-term rehabilitation, long-term care and assisted residential care at its facility in southwest Connecticut, where it has operated since 1918. A team of staff members implemented a personalized music program called "Music & Memory" to enhance the quality of life for selected LHS residents. Residents who are not able to engage in group activities due to severe cognitive and physical challenges can participate in the music program, a person-centered activity designed for individuals. Music & Memory has been a positive experience for family members, as well as residents.
An alternative to medication
Music & Memory was initiated as a quality assurance project coordinated with an ongoing program that was designed to reduce the use of antipsychotic medications in residents with dementia. Music & Memory offers the staff a non-pharmacological intervention to manage behaviors exhibited by residents: agitation, anxiety, restlessness and sun-downing.
The Recreation Department leads the Music & Memory program in our facility by ensuring all residents who wish to participate in the program are given the opportunity. Staff members are encouraged to proactively identify residents who can benefit from this program.
Residents and family members are integral to the success of this program. They are interviewed during the admission process by members of the recreation staff using a Music Assessment Questionnaire. The questionnaire provides insight on the resident's favorite type of music and background information about why the music was significant to them when they were younger. Personalized music can elicit fond memories from the resident's youth or special events in their past.
Each resident in the Music & Memory program is assigned an iPod with a personalized music play list. A volunteer from the local high school assists the Recreation Department in loading music play lists to each iPod and keeping the music updated based on the residents' and families' music selections. A list of iPods assigned to residents is available for staff to reference.
An opportunity for family members to reconnect
The Music & Memory program allows family members to reconnect with the resident in a unique way. These residents respond to the music in positive ways as evidenced by smiling. Repetitive and calling-out behaviors are lessened and in many cases, stop while the resident is listening to the music. Residents will reminisce about the songs they hear and what connection the music had to their past. Those who are non-verbal may began to sing along to the music and will be seen dancing with staff. The Music & Memory program also assisted the facility to reduce and, in many cases, eliminate antipsychotic medications for residents with a diagnosis of dementia.
Prior to implementing the Music & Memory program, LHS had a rate of 9.4% antipsychotic use for long-stay residents. That rate has been reduced to 5.08%. The program has improved the residents' quality of life without relying on the use of antipsychotic medications.
The Music & Memory program is available on all shifts, with staff trained and familiar in the use of personalized music on iPods. The Music & Memory program has proven to be an effective intervention to help calm, relax and make residents more engaged in their surroundings.
Janice Lexton is the quality assurance nurse at the Lutheran Home of Southbury, in Southbury, Connecticut. In that role, she incorporates evidence-based practice to improve resident care. She has led several quality improvement projects at the facility, including reducing antipsychotic medications, fall prevention, developing a congestive heart failure program and enthusiastically supporting all departments in their quality improvement efforts. Janice received her doctorate of nursing practice from Northeastern University in Boston Massachusetts. She is a member of Sigma Theta Tau International Honor Society of Nursing. Janice is Board Certified in gerontological nursing through the American Nurses Association and received certification as a Quality Certified Professional through the American Association of Nurse Assessment Coordination in partnership with the American Association of Director of Nursing Services.