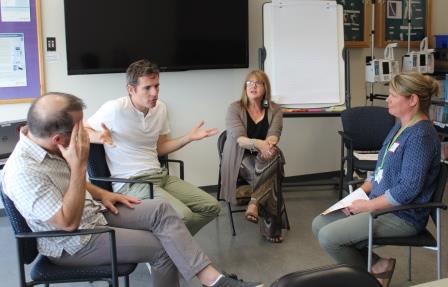 Holland Bloorview Kids Rehabilitation Hospital, Canada's largest children's rehabilitation hospital focused on improving the lives of kids with disabilities, developed an innovative simulation training program specifically to help healthcare providers and students deliver client- and family-centered care.
The simulation training is a part of a full-day orientation session on client- and family-centered care (CFCC). Learners watch two videotaped simulations and participate in two live simulations. Throughout the simulations, learners discuss what's working and what's not, and develop strategies to successfully embed the key behaviors of CFCC into their daily practice.
Making it Meaningful
As part of our commitment to CFCC, no major project or initiative gets started at Holland Bloorview without families at the table and developing our simulation scenarios was no different.
To ensure the simulation training was authentic and provided meaningful learning, families and healthcare providers partnered to develop scenarios based on their lived experiences. As part of the development process, about 30 individuals, including families, frontline clinicians, management and simulation experts, came together and shared their positive and negative experiences in the healthcare system.
The simulation scenarios were developed based on these experiences and each one of them ties directly to a core principle of family-centered care (dignity and respect, information sharing, partnership and quality of care).
In the live simulation scenario for quality of care, for example, participants meet the parents of a child who has cerebral palsy. The parents are portrayed by simulated "patients" who are part of the Standardized Patient Program at the University of Toronto, which partners with the hospital to deliver the live simulations. The parents are struggling with a major transition and aren't on the same page with each other. The learners practice skills like including both parents in the discussion and responding to emotional issues like stress and anxiety.
Raising Awareness and Skills
"This was an exceptional learning opportunity and reflective process for my practice as a clinician. Most certainly one of the most rewarding of my entire career….Thank you for… giving a voice to the many families and patients that will cross my path along the way. I greatly appreciated being challenged today to think outside of the box," wrote Erin Brandon, Pediatric Nurse Practitioner, reflecting on the simulation training. Holland Bloorview began monthly simulation training in April 2014 and to date nearly 240 employees and students have participated. The feedback we have received from learners is overwhelmingly positive. We've heard the training is:
Raising their awareness about communication issues
Developing their skills to better communicate with clients and families
Stretching their comfort zones and increasing their confidence
Helping them to be more mindful about their own interactions with clients and families
Inspiring them to integrate CFCC behaviors into their practice
In one post-training survey, all of the participants surveyed reported they had applied the learning in their practice in a number of ways, including putting a greater focus on listening to clients and families, involving the clients and families more in care, reducing the use of jargon, and ensuring clients and families understand information that is being communicated.
Small Changes, Big Impact on Care
Becky Quinlan, a parent of a client, was part of the Holland Bloorview team that helped lead the development of the scenarios and now helps deliver the simulation training. "As a parent, I feel it is so important for healthcare providers to undertake this type of training. Small changes in practice can have a dramatic impact on the way families perceive interactions. It is essential to develop positive relationships right from the beginning, and even the way a clinician enters a clinic room (being on time, knocking, introducing yourself and why you are there, asking the family members their names, etc.) can make a family feel at ease. This type of training can only improve the way care is provided to clients and their families," said Becky.
Factors for Success
Partner with clients and families in both the development and delivery of the simulation training to provide authentic and meaningful education. Fully engaging families in this process has been a critical factor in the success of our program.
Harness different expertise within your healthcare organization. At Holland Bloorview, the simulation training is a collaboration between our Teaching and Learning Institute, and the Client and Family Integrated Care and Collaborative Practice teams.

Gain support from senior leadership to move the initiative forward organization-wide.

Simulation training is highly impactful, but cannot be the only tool that supports healthcare providers in delivering client- and family-centered care. It must be part of a toolkit that offers ongoing learning and resources.
The Holland Bloorview team that led the development of our client- and family-centered care simulation scenarios received a 20 Faces of Change Award from The Change Foundation in 2015. The CFCC simulation development team includes Kathryn Parker, Senor Director, Teaching and Learning Institute and Simulation Lead; Laura Williams, Director, Client and Family Integrated Care; Amir Karmali, Family-Centered Care Specialist and Family Representative; Kimberley-Siu-Chong, Client and Family Relations Facilitator; Becky Quinlan, Family-Centered Care Specialist and Family Representative; and Darlene Hubley, Interprofessional Education Leader. The CFCC simulation work at Holland Bloorview was made possible through a Fellowship from the AMS Phoenix Project.
Editor's note: The Holland Bloorview team also was nominated for the John Q. Sherman Award for Excellence in Patient Engagement;you can read their nomination here.