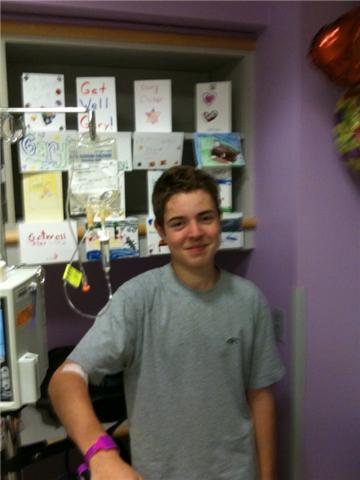 An excerpt from the book, Questioning Protocol, by Randi Redmond Oster
Dr. Carroll calmly walked to Gary's bedside. He just performed a very long surgery on my 15-year-old son, who has Crohn's Disease. "Gary will be fine," he says. "I took out the diseased intestine."

I ask exactly what he did in the operating room. The doctor looks around for a place for us to sit but there are not enough chairs. My husband and I follow the doctor to a dimly lit waiting room and sit down.

"What did you do?" I ask again.

He answers with a word that sounds like it has lots of letters and means nothing to me. I must look confused because he says, "Let me show you."

After a four-hour surgery, the doctor searches in his pocket for a piece of paper to illustrate the surgery. He flattens out a crumpled piece, and then grabs a pen and starts drawing the intestinal tract. It's amazing to me that these doctors don't carry preprinted pads of the digestive tract to use to describe operations. As he draws a diagram, he announces, "This is the esophagus. This is the stomach. This is the large intestine and the small intestine." I look down at his diagram and he is clearly not an artist nor should he be. I can't tell one body part from the other.

"I removed two inches of small intestine and five inches of large intestine and reattached the ends. I took out Gary's appendix, ileum and cecum and re-sewed the hole in his bladder from the fistula of where the appendix secured itself. I did it laparoscopically. Gary has one main incision and thee small holes." The doctor's calm voice makes it sound like this is not a big deal, but it sounds like a much bigger procedure than I'd expected.

I stare at the picture wondering what those things do that he took out. I only recognize the appendix, which no one had mentioned any plans to remove, including when they were having me sign waivers.

The doctor says, "Do you have any questions?"

It's a polite to ask but he is already moving to stand up. I do not know what to ask anyway.

"Maybe tomorrow," I respond, leaving myself an opening for continuing the conversation.

The next morning Gary's GI, Dr. Simmon, stops by the hospital room. I use the teach-back method to see if I fully understand Gary's operation. While I'm used to complexity from my aerospace engineering days, I wonder how other families are not intimated by the big words and minimal guidance. Why is it my place to proactively ask for detail explanations?

"Dr. Simmon, it's so good to see you." I smile broadly. "Dr. Carroll said Gary did great!"

"I know. It looks like they got out all of the Crohn's disease," he says, professionally.

"I know, they took out a lot of stuff," I say as I pick up the crumpled piece of paper. "Let me tell you about it."

He nods his head and pulls up a chair.

"I don't remember the name of the operation. It's real long. But, I can tell you on the diagram what Dr. Carroll did."

Dr. Simmon says, "They did an ileocecectomy."

"Oh yeah, that is it. Well, he cut out five inches of small intestine and two inches of large intestine and sewed the remaining ends together." I point to the diagram. "Then he removed the appendix that was on Gary's bladder causing a hole. He sewed up the bladder and removed the ileum and scrotum." I say it practically in one breath and Dr. Simmon giggles.

"It's amazing how much you got. But Gary's scrotum? Are you sure?" Dr. Simmon says.

"Oh, yes, the scrotum and the ileum they are gone plus even the appendix. Dr. Carroll took them out." I say it with confidence.

Dr. Simmon laughs louder. "I hope he didn't do that." He looks at me.

I think about what he's saying. Suddenly I'm horrified! I hope he still has his scrotum! I stumble around my embarrassment and Dr. Simmon is gentleman enough not to humiliate me. I say, "So, what did he take out?"

"The cecum." He looks at Gary. "You'll be able to have children. Don't worry."

Gary lifts the blanket and examines what's underneath. "Mom, I'm all there." He breaks out in a wide grin and rolls his eyes.
Lessons from a Mother
I felt pressured to sign the consent form because they wouldn't start surgery until it was signed, but didn't even know the name to the operation. They might have told me, but I didn't have it written down and clearly did not understand what it entailed. It would have been wonderful, if they had a pre-printed diagram of the intestinal track and the doctor walked me though a typical scenario. This way, if Gary's operation varied, I would have automatically known some questions to ask after the operation–instead of feeling clueless. Using the same professional diagram before and after the operation saves the doctor time. Having the patient repeat back what they thought they heard increases understanding. When patients share in the decision making, a 2014 study in the Cochrane Library, "The Impact of Decision Aids," claims they have a 74% increase in realistic expectations.
Epilogue
Today, Gary is thriving with Crohn's disease. He maintains remission with a nutritional approach. I used a shared-decision tool from Six Sigma to help Gary evaluate his maintenance options.
My mission is to help improve the system. I wrote Questioning Protocol to share the tips, tools and techniques I used to engage the healthcare providers with our family. This excerpt from the Medical Library Association's review of my book gets to the heart of what I'm trying to achieve, "Not only will patients learn from this book but administrators and clinicians can use this as an opportunity to look at their own systems from the patient's perspective and how clinicians can provide quality patient-centered care."
Editor's Note: Questioning Protocol won the 2014 USA Best Book Award in health. For an engaging, informative, fast-paced read, Questioning Protocol is available on Amazon. http://amzn.to/1f2axTw