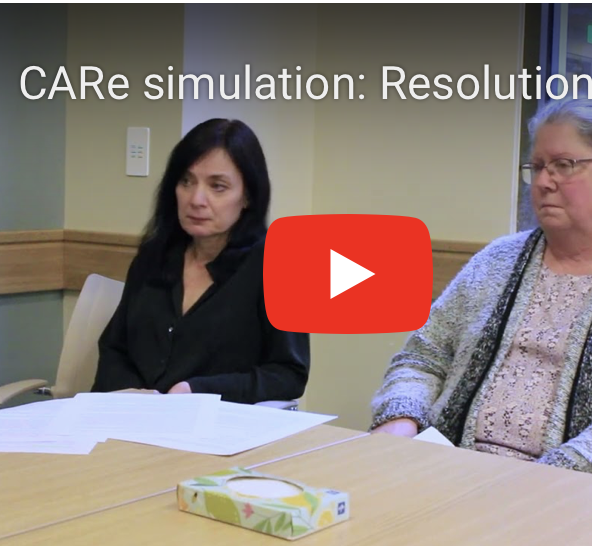 Communication and resolution programs can help organizations meet the informational and emotional needs of patients and families, as well as clinicians and staff members, after an adverse or unexpected event in medical care.
Advocates of the CARe — or Communication, Apology and Resolution — model held an annual forum earlier this month to highlight the successes of CARe programs in Massachusetts and challenges health care providers face doing this work consistently across their organizations.
The forum, hosted via Zoom and available on the Betsy Lehman Center website, included a moving first-person testimonial from Jane Bugbee, whose healthy daughter, Lindsay, died of Strep A and sepsis shortly after giving birth to her third child in July 2018. Lindsay's husband and parents have since worked together with clinicians and others at the hospital responsible for Lindsay's care, using the CARe process to make sure other families don't experience similar losses.
In addition, the morning-long forum included two simulations based on CARe cases in Massachusetts that demonstrate helpful techniques for having difficult conversations.
"These conversations are not routine and can be emotionally challenging for all involved," says Melinda Van Niel, CARe Program Director at the Betsy Lehman Center. "We know it can be helpful to see how these conversations can evolve and how the tools we have built can make them more successful."
One simulation models how to apply the CARe process to a particularly complicated example. In this case, a patient with congestive heart failure suffered a heart attack while waiting to be seen in the Emergency Department. He later died and his family experienced significant emotional harm. The hospital's internal investigation concluded that while not everything had gone smoothly over the course of his treatment and the delivered care did not meet the standard, the delay in the ED did not contribute to his death. The video shows the resulting conversation between representatives of the hospital and the patient's family.
Health care organizations that use the CARe model apply it to all cases where an unexpected adverse event has occurred. Cases are investigated by quality experts in the relevant departments but only a small percentage are found to have been caused by a preventable error.
A second video shows a risk manager explaining to a physician how the hospital's CARe program applies in a case where she made a prescribing error that adversely affected a patient. The risk manager expresses empathy for the physician, explains the goals of CARe, describes next steps, offers advice in preparation for talking with the patient and connection with peers who can give further support.
The Massachusetts Alliance for Communication and Resolution Following Medical Injury (MACRMI) was a pioneering organization that helped health care organizations implement CARe programs. Its work is now led by the Betsy Lehman Center.
A study of health systems in Massachusetts found that using a communication and resolution model like CARe does not lead to higher medical liability costs and that clinicians were supportive of the program. Open communication with patients and families can reduce some of the negative impacts of medical harm, as found in a study from the Lehman Center.
CARe offers provider organizations a detailed process for responding to unanticipated adverse outcomes, which includes proactively communicating with patients and families, examining and explaining what happened, avoiding recurrences by improving systems of care and, where appropriate, apologizing and offering financial compensation. The model also anticipates that clinicians and staff will need peer support and training to effectively communicate with patients and families.
To learn more about bringing CARe to your organization, please contact Melinda Van Niel.
This story was first published in Patient Safety Beat, the Betsy Lehman Center's digital newsletter, on June 16, 2022. The Center is an independent state agency in Massachusetts that engages and supports health care agencies, providers and consumers to improve patient safety through a statewide program of research, data analysis, programming and communication.