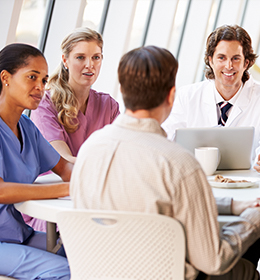 Engaging in research is among many ways patients are improving the healthcare system and contributing to medical knowledge. Patients have always being involved in research as participants in clinical trials; now they are also helping to design, implement and evaluate research.
PCORI—the Patient Controlled Outcomes Research Institute)—is one such program that includes patients as equal partners with healthcare professionals.
Although established by Congress under the Affordable Care Act, PCORI is an independent, nonprofit, nongovernmental organization. Funded through a dedicated trust fund and $2-per-enrollee fee on Medicare and private insurance plans, PCORI supports comparative clinical effectiveness research that develops evidence helpful to patients, providers, and others making decisions about care in the real world. PCORI's mandate calls for all stakeholders, including patients, to be involved throughout the research process.
PCORI is a large program, with a seven-member executive team, five advisory panels (with patients as members), and more than $2 billion in funded research and related programs. EngagingPatients contributor Danny van Leeuwen reviews PCORI research funding applications and serves as co-chair of PCORI's Communication and Dissemination Advisory Panel.
AIDS Activists Engaged in Research
I thought PCORI, which began in 2012, and other current programs for engaging patients in research represented a new trend until I started reading Impure Science: Aids, Activism, and the Politics of Knowledge, a book written more than 20 years ago. In it, Steven Epstein explores the intersection of social activism and medical research during the AIDS crisis. In that movement, patient activists worked in opposition to some elements of the traditional medical establishment, attempting to develop evidence for an alternate approach to HIV and AIDS. Epstein explores the way the AIDS community positioned itself in the enterprise of medical science:
Perhaps the most interesting of the social movements that position themselves in relation to science are those which try to stake out some ground on the scientists' own terrain. These activists…seek not only to reform science by exerting pressure from the outside but also to perform science by locating themselves on the inside.…(p.8)
The AIDS movement can best be compared with the relatively short list of movements that neither simply enlist experts nor attack them but, rather, undergo the process of "expertification."(p.9)
Patients as Experts
Current efforts, including PCORI and the patient-led movement to learn more about Lyme and other tick-borne diseases, focus organized attention and considerable resources on "expertification." Based on their experience, patients and lay caregivers start out as experts about many things: the details of their own care, the effect of drugs and procedures, what it takes to navigate different settings of care, and, for some, the ins and outs of social media, communication, public and private insurance, government policy, and more. In some cases, patients contribute their own health information to develop databases available for research.
PCORI, the Lyme community, an organization working on diagnostic safety, and others are involved in supporting and training patients to advance their knowledge. These programs honor patients and consumers for their expertise and offer opportunities to participate in developing research in healthcare delivery and ways to help patients and clinicians make informed decisions.
Expertification often poses a challenge to traditional medicine but increasingly is embraced by physicians, researchers, and organizations that recognize the value and inevitability of patient engagement.
Patients Improving Research in Diagnosis is a joint project of the Society to Improve Diagnosis in Medicine (SIDM), the MedStar Institute for Quality and Safety, and Project Patient Care, funded in part by a Eugene Washington PCORI Engagement Award. In this new project, the first cohort of 20 patients has been chosen and paired with research mentors. Over the next 18 months, in addition to helping with research, they will develop and evaluate curriculum designed to prepare patients to participate in diagnostic research. Sue Sheridan is SIDM's director of patient engagement, a title she held for PCORI from 2012 through 2016. Sheridan believes the patient leaders involved in the program can achieve significant improvements:
…[patient partners] can contribute to the reduction of misdiagnosis by helping to ensure that research design truly represent the research questions and outcomes that matter most to patients. I've been a patient partner in research, so I've seen how our perspective can transform research design and lead to more meaningful and useful information.
Beginning with activists in the 1990s, continuing and accelerating through new initiatives today, engaged patients and consumers are developing confidence in what they already know, what they are capable of learning, and in the contributions they can make to future medical knowledge.