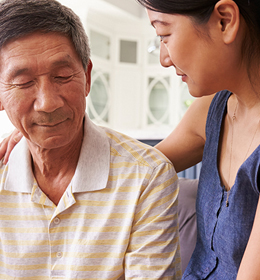 Working on a problem for a family member recently, I was reminded that persistence is an important tool for engaged patients and family members. Fortunately, the problem was not critical and has now been resolved. The experience, however, reinforced my frustration with the needless complexity of our healthcare system, which can bedevil even apparently simple acts of engagement. In addition to making difficult decisions, assuming sophisticated duties, and performing daily acts of kindness, engagement can mean that patients and their friends and family members make big commitments to doing the little things, seeing tasks through to completion, and persevering through frustration.
I help my 90-year-old father manage his healthcare, which has become more complicated since medical issues caused him to move to a continuing care community (CCC) in September. At that time, he changed primary care practices, and at the first visit, his physician prescribed a new glucometer. That new script launched a series of errors and obstacles that I overcame only after spending hours on the phone and in the car. I had the luxury of knowing that Dad's not being able to check his blood sugar for a couple of weeks would cause him no harm. The experience caused me serial bouts of exasperation and blocks of lost time. I can hardly imagine what this would have felt like had Dad been harmed along the way, which I know is a common outcome of system problems and human error. In hindsight, my experience seems comical.
Glucometer Travails
By the time Dad's new glucometer was ready for pick up at the local pharmacy, I had returned to my house, 2 hours away, for the workweek. All of Dad's other medications are delivered to his CCC, but that pharmacy couldn't supply the glucometer—insurance problem, I was told. Dad no longer drives. A nurse at the CCC realized she drives by the pharmacy that had Dad's glucometer on her way home and generously offered to pick it up and bring it to Dad the next morning.
Soon, Dad needed more test strips. I called the PCP's office and asked them to send a prescription for test strips to the pharmacy that had supplied the glucometer. A week later, while visiting Dad, I picked up the test strips. He first used them the following morning, after I'd gone home, and found they didn't fit the glucometer. Another call to the PCP, this time armed with the brand and model of the glucometer. They said would send in a new script for the matching test strips. I called the pharmacy the next day to see when the strips would be ready for pick up and learned that the script had been returned to the PCP because it arrived without a diagnosis code. More phone calls, more bad music on hold… Each of these steps involved at least a day or two of phone tag and time. When I next called the pharmacy about the strips, I learned that Medicare had denied the latest script because I'd picked up a test strip order for Dad just 10 days earlier (the ones that didn't fit in the glucometer). We'd have to wait for more than a month, until after Thanksgiving. I could buy the strips over the counter, for which I'd pay close to $200 for an order of 100. More phone calls.
I finally discovered the disconnect that caused all this trouble by talking with yet another nurse at the PCP's office. Although it was 4:45 p.m. on a Friday afternoon, she took the time and attention to look through his records carefully and discovered that the glucometer Dad had was not the one prescribed. Somehow, at the beginning of this adventure, the nurse  who generously delivered the original glucometer ended with the wrong one. The pharmacy had the glucometer Dad was supposed to have, available over the counter for $20. Solution! It turns out that glucometers:test strips as printers:toner and ink! The next time I visited, I bought the device that matches the original script and the test strips Dad has on hand.
I spent only a little more time trying to figure out – unsuccessfully – where this went wrong. I did not originally have access to the patient portal at the new PCP's office. With access, which I have now, I could have seen the mismatched orders; obvious to me now that I know how this story ended. I'm not sure I would have understood it in real time. A tech at the pharmacy could not or would not look at the original glucometer order for me. This was my first experience with glucometers. I'm baffled they are so proprietary and that the strips aren't standardized. I'm also reminded that lack of access to good records leaves patients and family members largely in the dark.
This was a minor problem, insignificant in the larger scheme of things, a story I would have forgotten by now if I weren't writing about it. But amplified across countless patients, friends, and family caregivers, the effort required to diagnose and solve these kinds of problems is impressive. I like to think of the time and energy spent on small, necessary tasks of engagement as a quiet force for good.