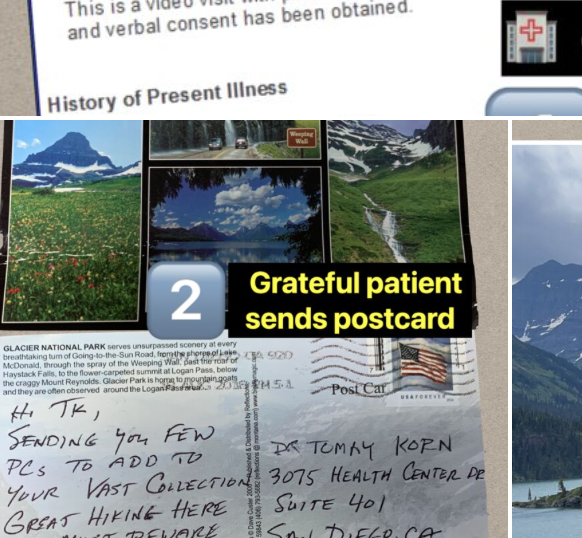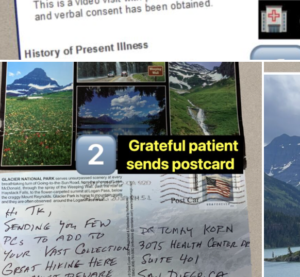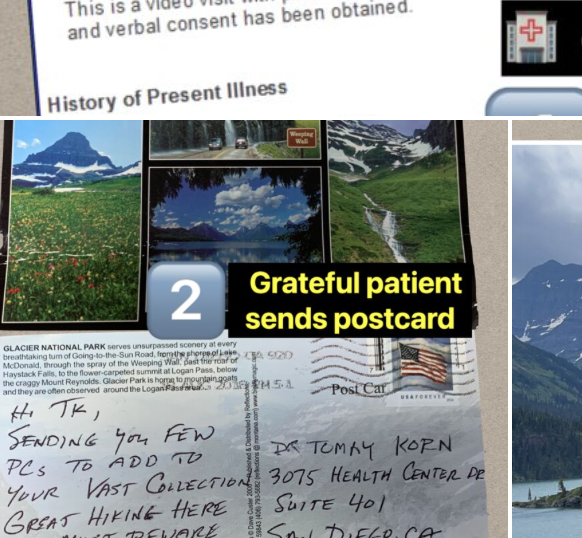 Tommy Korn, M.D., an ophthalmologist in San Diego, recently came to my attention through a tweet from OpenNotes (@myopennotes):
We love to see examples of clinicians doing #opennotes well! Check out how @TommyKornMD handles note sharing! Clear, affirming, engaging and patient-centered.
The tweet links to Dr. Korn's LinkedIn page, where he offers a sample (and carefully deidentified) medical chart note that demonstrates encouragement, empowerment and emotional connection with a patient. He also shows the real and simulated postcards that document the patient's vacation suggestion. It's a delightful exchange – warm, light and clear. Dr. Korn's clinical note includes detailed instructions about medications and follow up but reads like a personal letter.
In addition to his engaging approach to sharing clinical notes with patients, Dr. Korn is a skilled composer of social media posts, including a nicely produced video on his practice's website (also available on YouTube).
A physician's clinical skills are of course more important than his or her proficiency with social media, but without communication, empathy and engagement, patients and family members may not benefit from a provider's clinical acumen. Human relationship is the conduit through which clinical knowledge and skill flows from provider to patient and back again. Social media is one way to promote the connection and build the relationship, and Dr. Korn and his patient offer a great model for success.
OpenNotes describes itself as an "international movement" that fosters transparent communication in health care by advocating that patients have full access to the documentation of their clinical encounters, including the provider's notes. Patients in the United States now have the legal right to access their clinicians' notes through the electronic record.
OpenNotes has often been featured in this blog. For anyone new to OpenNotes or wanting a refresher, here are some links:
OpenNotes: the Empathy Catalyst that's Spurring a Revolution in Care
OpenNotes: Creating a Solid Foundation for Engagement
Accessing Clinical Notes to Improve Patient Safety and Reduce Disparities
On November 2, Patients Gain New Access to Personal Health Information