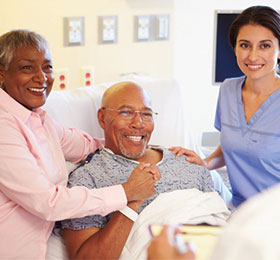 When I said, "Let me know if there's anything I can do to help," I had no idea what I was I was in for. The friend I offered to help was on the cusp of a medical adventure neither he nor I could have imagined. In addition to being sicker than I realized, he was engaged in his medical care to an unusual degree, in a way that I appreciate even more now than I did then. Being a supremely engaged patient gained my friend control over a difficult situation, the best care possible, and some quality time he would not have had otherwise. He also provided me and a large group of friends with an inspiring example.
My friend, whom I'll call Joseph, had amyloidosis, a rare disease that isn't cancer but is treated with bone marrow/stem-cell transplantation and high-dose chemotherapy. Sadly, after roughly five years and two rounds of therapy, Joseph died from his disease a few years ago.
A Community Steps Up
The treatment Joseph needed was offered on an outpatient basis to a limited number of patients at an academic medical center in the Boston area. The program was available only through an application process that required, among other things, finding lodging close to the hospital and assuring the commitment of a 24/7 caregiver for a six-week course of treatment. The treatment included chemotherapy given through a central line and a complex medication regimen.
Joseph had no immediate family members or life partner to support this effort, but he did have a large network of friends through his local church and an ad-hoc arts community he had been part of for decades. Joseph secured the commitment of more than 40 individuals, including me, willing to serve as caregivers and convinced the hospital program that this large team could reliably care for him through six weeks of treatment. We did that twice—two six-week treatments—with no complications and no infections.
For Joseph, Engagement Included Supporting His Team
Helping Joseph through those times was a considerable challenge and achievement. Most of us, including Joseph, focused on the complexity of managing his demanding treatment with a large number of people, many of whom were only casually connected prior to this experience.
Thinking about this recently, I've come to appreciate how the success of this community effort depended primarily on Joseph's detailed advance work. He had always been an engaged patient and had experienced heart surgery and other medical events in earlier years. Professionally, Joseph was an accomplished and fastidious engineer. He applied that mindset to this new challenge: enlisting, educating, and supporting a large team of people, most of whom had no prior experience in patient care.
I still have the notebooks Joseph created for his caregivers: pages of background information about amyloidosis, his treatment plan, infection control practices, possible side effects, what to do in case of an emergency, maps, medication lists, nutritional recommendations, caregiving schedules, and full contact information for his large medical team, his patient support group, more than 40 caregivers, and many more people who were involved in some way. There were also journal pages and medication charts that each caregiver updated to create a record and provide guidance to whoever was next on duty.
Most days, the caregiver drove Joseph to the hospital for his treatment, spent time with the medical and nursing staff, participated in discussions about Joseph's progress and care, and occasionally advocated on his behalf. Driving back home often included a stop at the local supermarket and plans for dinner. We all learned to report to the next caregiver at what amounted to shift change.
There were, of course, last-minute scrambles to adjust for changes in the schedule. I'm sure more than a few caregivers had moments of doubt, wondering if this all was actually a good idea. My moment came late one evening after a day spent at the hospital. I sat on the floor of Joseph's apartment facing a pile of medication bottles I'd dumped out of the worn paper bag he used to keep them together in his backpack. I worked at reconciling them to a printed medication schedule and planned his meds for the night. I—at the time, seasoned editor of a publication about patient safety—realized in the nick of time that I'd given Joseph the wrong bottle of pills for that hour's dose, swapped bottles with him, and recorded the error in the journal.
Overcoming our inexperience with caring and—by far most important—Joseph's direction and encouragement, we successfully escorted him through treatment twice, deepening our relationships with him and each other along the way. We also gained new appreciation for the complexities of healthcare delivery and communication's crucial role in patient care.
Many aspects of Joseph's story were remarkable. I still marvel that he was able to orchestrate such a complex, long-term event with a large cast of characters while he was quite sick. When I think of patient engagement, I usually think about the relationship between patients and professional providers of medical care. I think, too, of the role other patients and family members can play as advocates for patients. When I think about volunteer or community-based caregivers, it's usually in the context of patients who are not well enough, due to illness or disability, to be actively engaged in their own care.
Joseph's needs were unusual—a volunteer team of caregivers for a demanding, limited period of time—as were his abilities as a somewhat compulsive engineer. Although he remained in control of his treatment program and daily life even when physically depleted, he trained a team, set up an environment, and created a process that would serve him well even if he weren't able to fully participate.
The experience expanded my understanding of patient engagement to include assessing one's own needs, asking for help, and supporting caregivers with a framework, knowledge base, and community. Joseph couldn't guarantee that successful completion of this process would mean he was cured, but it did mean that he had done everything he could on his own behalf and to the benefit of all of us who were privileged to be part of his team.