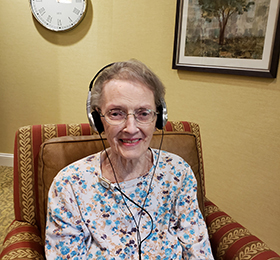 Editor's Note: The Lutheran Home of Southbury's "Music and Memory" program was recognized as a finalist for the 2018 Sherman Award for Excellence in Patient Engagement. The Sherman Award is co-sponsored by Taylor Healthcare and the IHI/NPSF Lucian Leape Institute. In addition to selecting Sherman Award winners each year, the judges name finalists when the caliber of their projects warrant special recognition. Winners and finalists were announced at the IHI/NPSF Patient Safety Congress held in Boston, Massachusetts, in May.
The Lutheran Home of Southbury (LHS) offers short-term rehabilitation, long-term care and assisted residential care at its facility in southwest Connecticut, where it has operated since 1918. A team of staff members implemented a personalized music program called "Music & Memory" to enhance the quality of life for selected LHS residents. Residents who are not able to engage in group activities due to severe cognitive and physical challenges can participate in the music program, a person-centered activity designed for individuals. Music & Memory has been a positive experience for family members, as well as residents.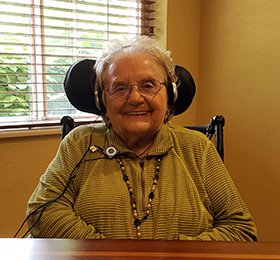 An alternative to medication
Music & Memory was initiated as a quality assurance project coordinated with an ongoing program that was designed to reduce the use of antipsychotic medications in residents with dementia. Music & Memory offers the staff a non-pharmacological intervention to manage behaviors exhibited by residents: agitation, anxiety, restlessness and sun-downing.
The Recreation Department leads the Music & Memory program in our facility by ensuring all residents who wish to participate in the program are given the opportunity. Staff members are encouraged to proactively identify residents who can benefit from this program.
Residents and family members are integral to the success of this program. They are interviewed during the admission process by members of the recreation staff using a Music Assessment Questionnaire. The questionnaire provides insight on the resident's favorite type of music and background information about why the music was significant to them when they were younger. Personalized music can elicit fond memories from the resident's youth or special events in their past.
Each resident in the Music & Memory program is assigned an iPod with a personalized music play list. A volunteer from the local high school assists the Recreation Department in loading music play lists to each iPod and keeping the music updated based on the residents' and families' music selections. A list of iPods assigned to residents is available for staff to reference.
An opportunity for family members to reconnect
The Music & Memory program allows family members to reconnect with the resident in a unique way. These residents respond to the music in positive ways as evidenced by smiling. Repetitive and calling-out behaviors are lessened and in many cases, stop while the resident is listening to the music. Residents will reminisce about the songs they hear and what connection the music had to their past. Those who are non-verbal may began to sing along to the music and will be seen dancing with staff. The Music & Memory program also assisted the facility to reduce and, in many cases, eliminate antipsychotic medications for residents with a diagnosis of dementia.
Prior to implementing the Music & Memory program, LHS had a rate of 9.4% antipsychotic use for long-stay residents. That rate has been reduced to 5.08%. The program has improved the residents' quality of life without relying on the use of antipsychotic medications.
The Music & Memory program is available on all shifts, with staff trained and familiar in the use of personalized music on iPods. The Music & Memory program has proven to be an effective intervention to help calm, relax and make residents more engaged in their surroundings.