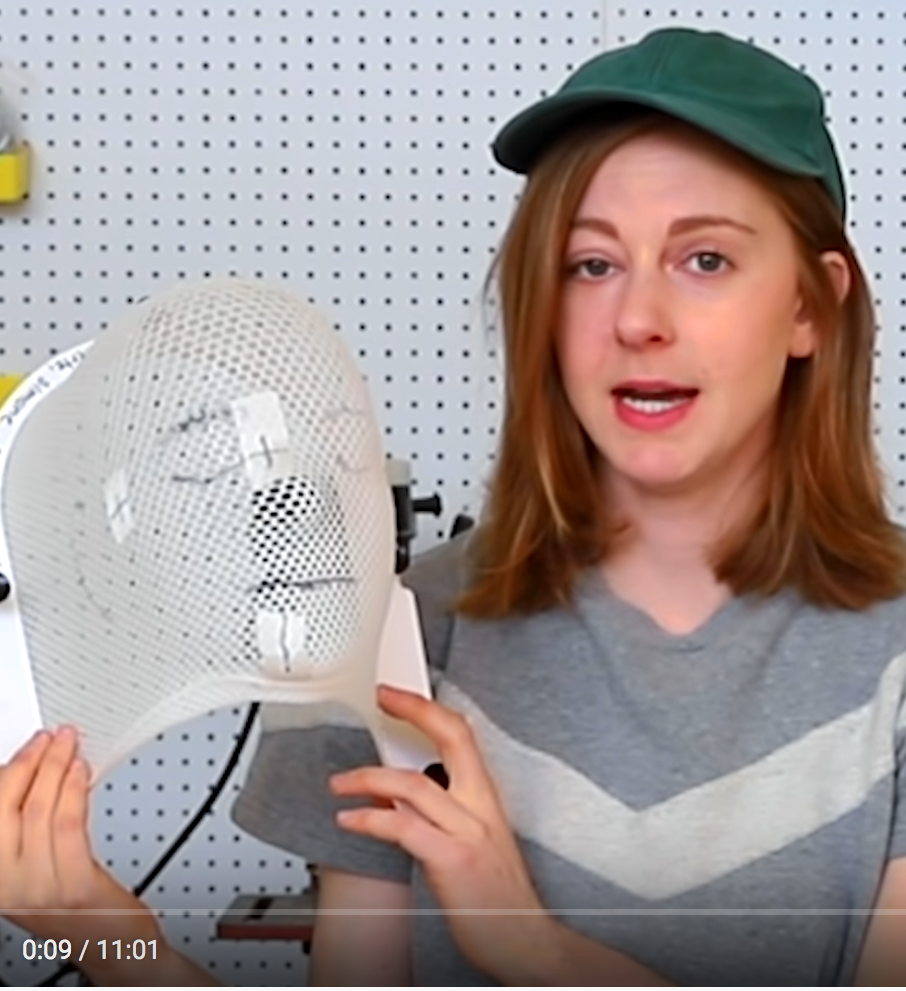 With charming, self-deprecating humor, Simone Giertz designs robots to dys-automate common tasks like toothbrushing and eating soup and demonstrates the design process and results on short videos. Giertz is great company in a world where things often go wrong, often when we've worked especially hard to make them go right. In her version, no one gets hurt, and we all have a good laugh.
On YouTube, where she has close to two million YouTube followers, Giertz is disarming, direct and engaging. But she didn't reveal details of her personal life until a serious medical problem recently interrupted her normal routine. Her approach to talking about her condition and treatment was different from that of most engaged patients I follow online or even many I know in real life. She's reaching an audience that may not otherwise encounter the "engaged patients" community. I am reminded that there's room and need for different ways to communicate about the experience of being a patient.
Giertz, known online as the Queen of Sh%*#y Robots, is a 28-year-old Swedish inventor who unwittingly launched a successful career in 2015 with a seven-second YouTube demo of her toothbrushing robot (mechanized toothbrush mounted on the forehead of a skateboard helmet). In a 2017 TED talk Giertz explains how she fell into this quirky line of work and what she now sees it means to her.
In May 2018, Giertz was diagnosed with a non-malignant brain tumor and underwent surgery. Eight months later, she was disappointed to find it had regrown more rapidly than expected. Giertz then received radiation therapy five days per week for six weeks. She returned to work shortly thereafter, flying around the world speaking, creating videos, robots and other things — embracing life in all its wonderful and sh%*#y moments.
Giertz is an engaging communicator whether talking about her brain tumor or goofy robots and has focused on health issues for her internet audience only when necessary. She's not likely to become a marquee ePatient, though she has the skills. It's a reminder that engaged patients come in all sizes, shapes and styles. That is a good thing, given that we're all different and most of us confront health problems at some point in our lives. We need all kinds of other people with whom to connect in those moments. And they don't necessarily have to stay in that lane forever.
Here are links to Giertz's videos about dealing with "Brian" the brain tumor (Warning — salty language):
My Experience With Radiation Therapy — or — "Making Sh%*#y Art from Sh%*#y Situations"
In this video, which currently has more than 1.1 million views, Giertz makes a lamp out of her radiation mask. She also reflects (7 minutes into the 11-minute video) on the experience of being sick and the silver lining — she had not before "dared to ask" her friends for help. Letting them help her (with rides to each of her 30 radiation sessions) transformed the experience from something to dread to something to look forward to, a visit with a caring friend.
Giertz also talks about being a patient in segments of an hour-long video of a podcast (coincidentally recorded on the one-year anniversary of her brain surgery), which is primarily about what it's like to be a professional YouTube "maker." Her comments about what it was like to be a patient, especially one with a comical, silly online persona, occur at around 20 mins.
And for something completely different…
I Turned My Tesla Into a Pickup Truck