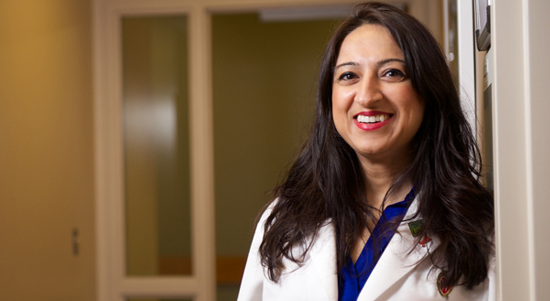 I am pleased to nominate Dr. Nasia Safdar, hospital epidemiologist for the University of Wisconsin Hospital for the John Q Sherman award for excellence in patient engagement. By way of background, I am the Director, Nursing Quality & Safety at the University of Wisconsin Hospital and Clinics. A large portion of my role is dedicated to prevention of infections. The five infection control practitioners at our organization report to me. I have collaborated with Dr. Safdar for the past two years. During this time, Dr. Safdar has made patient engagement a core element in all aspects of her work in infection prevention. Working closely with patients on the University of Wisconsin Hospital Patient and Family Advisory Council as well as additional patients identified through her clinical work in infectious diseases, she has led successful initiatives in promoting patient engagement in healthcare-associated infection using an innovative systems engineering approach.
Narrative
Dr. Safdar is the hospital epidemiologist for the University of Wisconsin Hospital and leads the institution's efforts to reduce healthcare-associated infections (HAI). Early in her work, she has realized the importance of patient engagement in reducing infection and has collaborated closely with our Patient Family Advisory Council (PFAC). In this endeavor, she has undertaken and published scholarly work on patient awareness of HAIs (Are hospitalized patients aware of the risks and consequences of central line-associated bloodstream infections? Anderson M, Ottum A, Zerbel S, Sethi A, Safdar N. Am J Infect Control. 2013 Dec;41(12):1275-7), patient preferences on how they wish to learn about HAI (Reducing health care-associated infections: patients want to be engaged and learn about infection prevention. Gudnadottir U, Fritz J, Zerbel S, Bernardo A, Sethi AK, Safdar N. Am J Infect Control. 2013 Nov;41(11):955-8) and patient perceptions of healthcare worker hand hygiene as well as patient hand hygiene (Do patients feel comfortable asking healthcare workers to wash their hands?Ottum A, Sethi AK, Jacobs EA, Zerbel S, Gaines ME, Safdar N. Infect Control Hosp Epidemiol. 2012 Dec;33(12):1282-4) and (Patient Hand Hygiene at Home Predicts Their Hand Hygiene Practices in the Hospital. Anna Barker, Ajay Sethi, Emily Shulkin, Rachell Caniza, Sara Zerbel, Nasia Safdar- Infection Control and Hospital Epidemiology [in press].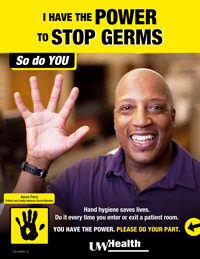 Working closely with two patient members of the PFAC, Dr. Safdar has devised and implemented patient-developed and patient-preferred interventions to improve patient hand hygiene which have been favorably received. She has also taken on the important issue of patient education materials for HAI and has demonstrated, in a literature review that a systematic assessment of these education materials using a validated tool (The Patient Education Materials Assessment Tool) shows that available materials perform poorly in their intended purpose. She has taken this work one step further by working with a patient to develop education materials that are patient-driven, patient-centered and are presented in a way that patients prefer. Dr. Safdar's work embodies the mantra of patient engagement and involvement, "Nothing about me without me."
Dr. Safdar's innovative approach to HAI prevention by engaging patients at every level of the infection prevention process using the patient family advisory council infrastructure has led to a transformation of the way healthcare workers and patients approach HAI prevention at our institution. Using a systems engineering initiative for patient safety (SEIPS) that was developed at the University of Wisconsin College of Engineering, Dr. Safdar has implemented a systematic approach to patient engagement that begins with the patient's presence at every step of the infection prevention process. We have patient representation at working groups and task forces to reduce HAI and their input is sought and incorporated at multiple levels. For example, one of our units had a cluster of C. difficile infection. Dr. Safdar led a taskforce to implement a C. difficile prevention bundle and one aspect that was raised by a patient was the need for improved patient and healthcare worker hand hygiene. We have since piloted patient suggested interventions to improve these findings. Infection control is by nature a collaborative process and Dr. Safdar has promoted and facilitated interdisciplinary collaboration among nursing, engineering, physicians and critical ancillary staff for infection control such as environmental services. She is driving systems change in this area by providing inspiration to patients and providers about what patient a patient-centered model for infection prevention can achieve. She is a sought after speaker on patient engagement for reducing HAI and has advised other institutions on how to promote patient engagement.
Results
Dr. Safdar's work in patient engagement for reducing HAI has led to overall reductions in HAI at the University of Wisconsin Hospital, particularly in catheter-associated urinary tract infection by 47% in 2013 and multidrug-resistant organisms such as C.difficile which was reduced from 16 infections per 10,000 patient-days to 12 infections per 10,000 patient days over a one year period. We believe that hand hygiene improvement, led by our patients' direct efforts with the infection prevention program, led to these results. As a result, the institution was awarded the 2012 Partnership in Prevention Award from the Department of Health and Human Services. Patients have commented that their involvement in the institution's hand hygiene campaign, which improved hand hygiene rates in healthcare workers from 50% to over 90% from 2012 to 2013, has led to a high level of patient satisfaction in the inpatient and ambulatory settings. A patient on the advisory council, Peggy Zimdar, says, "We know that the University of Wisconsin takes healthcare worker and patient hand hygiene seriously when patient representation is considered a crucial part of working committees and task forces to reduce infections." Patients who were given a survey in clinics to gather their perceptions on hand hygiene in healthcare workers reported, "Dr. Safdar's infection control group is gathering essential data regarding our perceptions of healthcare workers hand hygiene-something that other institutions and infection control programs have not solicited.