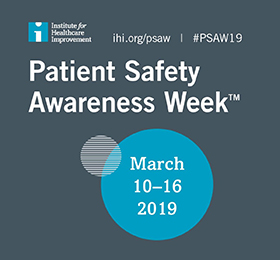 Patient Safety Awareness Week (PSAW) – observed next week, March 10-16 –  recognizes ongoing efforts to improve the safety of healthcare. It is a time both to acknowledge contributions from all quarters in the way of projects, research, education and support and to inspire everyone to become more involved. Started by the National Patient Safety Foundation (NPSF) in 2002, PSAW is now an initiative of the Institute for Healthcare Improvement (IHI). The two organizations merged in 2007 and now operate together as IHI.
Although PSAW is a national event, most activities are local and focused on hospital staff members and projects. Some organizations also recognize PSAW by offering free programs to the public, including educational programs online.
This year, IHI is offering a free, hour-long webcast on Wednesday, March 13, at 2:00 p.m. ET  that will examine the state of patient safety in ambulatory health care settings. "Advancing Patient Safety Beyond the Hospital"will include presentations by Jeffrey Brady, M.D., director of the Center for Quality Improvement and Patient Safety at the Agency for Healthcare Research and Quality, and Lisa Schilling, RN, vice president of Quality, Safety and Clinical Effectiveness at Stanford Health Care. The discussion will be moderated by Tejal Gandhi, M.D., IHI's chief clinical and safety officer and formerly president and CEO of NPSF. For more information and to register, click here.
The Hospital Quality Institute will offer a number of free webinars during PSAW, including one focused on engaging patients to improve patient safety. "Partners in Safety: Engaging Patients to Promote Safe Medication Use" will be offered on Thursday, March 14, 2:00 – 3:00 p.m. ET. The webinar will be presented by Katayoon Kathy Ghomeshi, PharmD, medication safety specialist at University of California, San Francisco Medical Center. For more information and to register. click here.
On Twitter, #PSAW19 will focus the conversation. IHI (@TheIHI) and the Society to Improve Diagnosis in Medicine (@ImproveDx) will co-host an hour-long Twitter chat, "Improving Diagnosis in Ambulatory Settings," on Thursday, March 14, at noon ET.
For other programming, search the web and contact local healthcare organizations. Please consider reporting on how you or your organization recognized PSAW this year by contributing a post to Engaging Patients. We'd love to hearfrom you and help share your achievements and stories with this community.