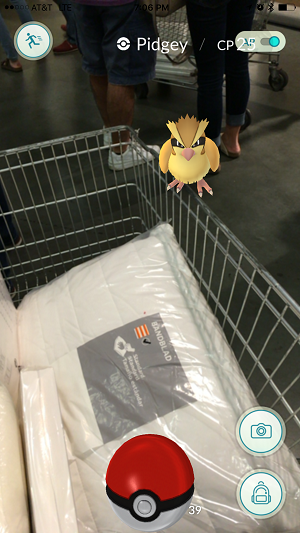 On a recent tranquil summer evening, the bucolic park in the center of our little town was overrun with hunters — from grade-schoolers to graying Boomers — all with their heads down, peering into their phones as they meandered throughout the park.
They were all in search of Pokémon. And they were everywhere — the hunters and the Pokémon.
The number of people across the U.S. taking their phones on a Pokémon pursuit has been astounding. After just its first few days, Pokémon Go became the biggest mobile game ever in the U.S. and even had eclipsed Twitter's average number of daily users.
What struck me about the phenomenon was not the game itself. It is the fact that it is one of the first widespread uses of augmented reality that the public (and the media) has been able to understand and use with ease. Unlike virtual reality that requires a bulky headset, everyone already is outfitted with the gear they need — their smartphone.
And while Pokémon Go is not a "health" app, it does deliver positive health consequences or healthy lessons. Even the game's description encourages users to "get your shoes on, step outside and explore the world."
Most importantly, though, the app also shows hope for applying non-real world "realities" to improve patient engagement, medical understanding and our overall health.
About Realities
First a quick primer on "realities" — augmented and virtual. Since we all live in the real world, we'll skip that one!
Augmented reality is the mixture of the digital world with the real world. By contrast, virtual reality is an entirely digital experience. Both can deliver immersive experiences but their application and value are different, especially with health and medicine.
Virtual reality shows great promise as a tool for health and medical education, while augmented reality may be able to help people better navigate and understand their immediate environment, such as in an occupational therapy setting.
3 Lessons from the Pokémon World
Which brings us back to Pokémon Go and its relationship to health engagement. As you watch people search for Pikachu, Charmander and Squirtle (or you hunt for Pokémon yourself), here are a few lessons that can be applied to the healthcare space.
Think Broadly about Engagement
Pokémon Go has become an inadvertent health app by masking healthy activity–getting outside and being active–within the game itself. It is likely that many copy-cat apps will emerge that use the "get outside and play in the real world" model.
The game expertly employs gamification to make a contest or challenge out of an everyday activity — in this case turning a walk or every walk, into a chance to find Pokémon and advance in the game. Gamification has been used for a long time in health apps like LoseIt! for weight loss or RunKeeper for activity to incentivize people to make healthier choices.
When applied more broadly, such tactics can promote better health and better choices in everyday activities.
It's also about sharing and communicating. Pokémon Go activates a broad community because it is something that young and young-at-hearts all can enjoy — and do together. As we expand uses of technology in healthcare, especially those aimed at changing behavior, we need to consider the importance of community by engaging, empowering and activating support systems along with patients.
Give LARPing a Try
Pokémon Go is a live action role-playing game, or LARP and participants are LARPing. In these types of games, players physically act out what their characters are doing.
There is great promise in augmented reality-based role-playing within the healthcare community. Occupational therapists could work with patients in an augmented world to safely demonstrate and observe techniques as well as to see how patients react to different environments or situations. Another use could be to help new parents learn how to react to situations that may occur with their new baby. Doing is always better than just reading about it.
Role-playing already is important in medical education.With augmented and virtual reality, this approach can be expanded to new populations and new knowledge can be gained from data that can be collected.
Don't Go it Alone — Think Partnerships
Very quickly, enterprising businesses figured out how to capitalize on the game's sense of community and space.
Many businesses realized they could set a "lure" that would attract game players. These were coupled with promotions and discounts and drove incredible increases in traffic to coffee shops, pizza parlors and other small businesses — even churches!
When applied to health applications, partnerships could be extremely beneficial. They could take the shape of a collaboration among hospitals, physicians and device manufacturers or simply teaming up with health-minded businesses that would be attractive to patients and your community, perhaps to earn points or discounts.
But Don't Forget Privacy!
Finally, a word about privacy, which is foundational in healthcare.
Of course Pokémon Go quickly exposed the privacy perils of digital engagement. The initial launch of the game potentially exposed more personal information than users had expected (an update fixed this) and some nefarious folks actually found a way to lure players into dangerous situations, some of which resulted in crimes.
It is unlikely that a purely health-related application of augmented reality would achieve the near ubiquity that Pokémon Go has but we always is be vigilant to protect the privacy of every user of any new health technology.
While the game certainly is not for everyone, Pokémon Go shows us how shifting our view of reality can lead to a new world of possibilities in patient engagement.