SHERMAN AWARD
FOR EXCELLENCE IN PATIENT ENGAGEMENT
Meet the 2019 Winners:
Innovative. Patient and Family- Driven. Inspiring. Transformative.
The EngagingPatients.org community is proud to announce two distinguished winners of the 2019 Sherman Awards for Excellence in Patient Engagement:Mind Springs Health Phase Based Care Program and Boston Children's Hospital Perioperative Complex Spine Surgery Team.Drawn from a highly competitive field of participants, these programs captured the judges' attention with their approach to engaging underserved and medically complex patients and families. Their work has transformed care for these patients and improved outcomes.
Mind Springs Health Phase-Based Care Program
According to national reports, access to psychiatry for patients on Medicaid is limited. Patients often confront wait times of seven weeks or more, a figure that is even greater in rural areas. Limited access to timely mental health treatment contributes to the more than 50 percent surge in hospital emergency department (ED) visits in over 10 years. Every year, more than 6 million patients present to EDs with a psychiatric crisis as their primary complaint.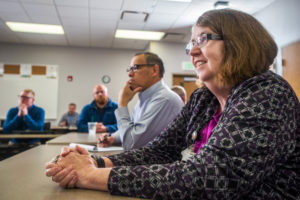 Mind Springs Health, a community mental health center that serves 10 counties in rural Western Colorado, opened its Rapid Recovery Clinic for depression to provide timely access and intensity-appropriate treatment for these patients.
A patient's first clinic appointment occurs approximately four days after their initial intake – a huge improvement from the national standard of one to three months. During that appointment, a multidisciplinary team meets with the patient to review treatment options. Patients are presented with evidence-based information about psychotherapy, medication and other individual and concurrent therapies for depression. They also are provided with other therapeutic modalities including case management, peer support and group therapies, which they can access weekly without an appointment.
Scientific evidence demonstrates that all encounters within a treatment setting, regardless of the care providers' credentials, have therapeutic value. The shared clinical contributions of all team members means that patients receive more clinical contact. The care teams at Mind Springs Health work intensely and collaboratively to address each patient's needs.Results have been significant. Patients are being seen more quickly, and 63 percent of patients are considered to be "in recovery" by week six and 78 percent by week 12 (based on continual monitoring of PHQ-9 scores). Additionally, the cumulative number of contact hours performed by all team members on each patient is higher than that of the traditional care model.
What our judges said: "Everything about this program is exceptional. This team has married patient engagement and patient experience at every step and in every way – leveraging resource utilization, cost of care and outcomes so that their processes are replicable. They might even make a case for a new model of care and reimbursement."
Boston Children's Hospital Perioperative Complex Spine Surgery Team
Frustrated by the preparation process for spinal fusion surgery in children with neuromuscular scoliosis, the perioperative complex spine surgery team at Boston Children's hospital set out to make a difference. They decided to reengineer the process for high-risk surgeries involving these children with complex medical needs. Their goal was to make the process more patient-centered and improve communication and coordination among families and care teams.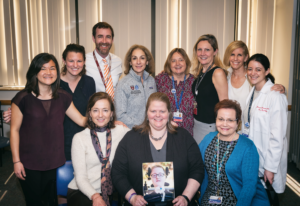 The team – particularly, two medical professionals who are parents of children who underwent spinal fusion surgeries – devoted countless hours generating and implementing ideas to improve care. Together, they engineered and optimized seven core processes: Perioperative care including: proactive communication from the surgeons to the child's other providers about the need for spinal fusion; patient chart review and phone calls between a complex care/general pediatrician and an APN; outpatient comprehensive health assessment with risk identification, shared decision making and planning; multidisciplinary team meetings to assess whether to proceed with surgery and patient's readiness; standardization of IV antibiotics and irrigation procedures; post-op consultative visits by the complex care pediatrician and APN to help with issues and discharge planning; and post-discharge follow up with the family.
Results have been impressive. As pre-op pediatrics involvement increased, length of stay, hospital costs and surgical site infection rates decreased. Families have been highly satisfied, and the new design is being hardwired into standard practices.
What our judges said: "Bravo for the deep and broad inclusion of families in all steps of program design, redesign and communication. Some of the best I've seen."
"I appreciate how they honestly shared their opportunities to improve and that they were willing to listen to suggestions by patients. Eliciting real-time feedback from patients and integrating [it] into the process redesign is a strength. The fact that the family members copyedit all materials including a shared decision-making guide ensures feedback is integrated. Great outcome of the project."
Honorable Mentions
The Sherman Award judging panel also named three Honorable Mentions. They are:
Memorial Regional Hospital South, Adaptive Sports and Recreation Program
HeartBrothers Foundation
Henry Ford Hospital, MICU Early Rehab Program
We'll be inviting both our winners and finalists to share their stories via our blog over the coming months. The range of their work is amazing and inspiring, offering new insights and ideas for engaging patients and families in the important job of creating better, safer care.