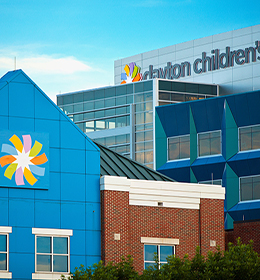 Editor's note: Dayton Children's Hospital received the 2018 Sherman Citation for Excellence in Pediatric Patient Engagement for its Family Resource Connection program. Co-sponsored by Taylor Healthcare and the IHI/NPSF Lucian Leape Institute, the citation is a new honor focused on pediatric facilities. It was awarded at the IHI/NPSF Patient Safety Congress in May. Dayton Children's program helps families address non-medical barriers to good health, such as poor nutrition and unsafe housing, by connecting them with local resources. Jessica Saunders has written about this program before for EngagingPatients, in June 2017 and November 2016. In her current post, she describes results based on two years of implementation.
With increasing recognition that social drivers, including food, housing and the environment, can have long-term impact on health, Dayton Children's Hospital realized there had to be a better way to identify and address social needs within the context of a clinical visit.
The Family Resource Connection uses a patient's visit to the doctor as an opportunity to address non-medical issues that have an impact on health. Patient families are asked a series of simple questions regarding their access to food, safe housing, utilities, day care, education, and other social drivers as they check-in to clinic. During the well-child visit, the provider identifies whether a need exists and if so, will let the family know someone from the program will follow up to help address their needs. Student workers, called advocates, then reach out to families in need and connect them to community resources. Advocates continue reaching out to families on a weekly basis as needed to help them work through issues or address additional needs. Advocates also verify if families were able to connect with resources. As various needs are resolved, the advocates draft clinical communication back to the provider, which is reviewed and entered into the medical record by the program coordinator, thus completing the feedback loop.
Two years into implementing our program, we have learned many lessons about the physical process of building a social needs program and how addressing social needs truly addresses the whole patient and whole family within the clinical setting.
Collaborating with the Social Work Department
Working with the clinical team to properly identify the scope of service we would provide was critical to the success of the program. The first department we talked with was social work. After explaining the goals of the program to meet basic social needs for patient families, we worked with the hospital social work team to ensure they were comfortable with this scope. They clearly understood we would escalate any behavioral health needs such as mental health, abuse or violence identified in the program to their team. We also made it clear we wanted to complement, – not duplicate – their services. After two years of doing screenings, we found only a handful of families in our primary care clinic identified as having a social need were already being seen by social work. The families we identify through screening are not in crisis, but we believe their needs, if not addressed, could escalate into more challenging situations. In addition, the social work department is comfortable referring families simply needing resources to the Family Resource Connection, thus allowing their limited resources to be used for more complex situations.
Engaging a group of college-level students in our program enhances the care team and allows our providers to work at the top of their licenses. This is a great opportunity for greater provider satisfaction. We often hear that pediatricians, in particular, want to make sure their patients have the resources they need. However, identifying resources and, more importantly, linking families to the right resources can be time consuming and overwhelming, especially within 15-minute clinical visits. For students, having the opportunity to interact with care teams and provide a real service to families allows them to explore real-world situations and gain valuable insight into the intersections of social drivers and health.
Screening Tool Opens Up the Conversation
Finally, we have learned that screening for social needs allows our hospital to contribute to the broader community conversation around social issues that impact our families. Some of the most common needs identified in the program include out-of-school resources for children, food, school supplies and baby necessities. In some cases, our community has a wide variety of resources for patient families, and we can make positive connections. However, in some cases such as housing, resources are very limited. Identifying gaps in resources or barriers that patient families are facing in accessing resources allows our hospital to work more closely with community-based organizations and partners to create better processes and, in some cases, work together to fight for greater funds. If we can create system-level changes, we can impact more families and truly address some of the root causes of poor health.
The health care landscape continues to evolve. Focusing on prevention and addressing the patient in their home context allows us to enhance the patient experience. Screening for and addressing social drivers of poor health provides a unique opportunity, which in our experience has been well worth the time and effort.